Global Insurance
|
16 Mar 2020


Nick Martin
Fund Manager, Global Insurance Team
In these volatile times we wanted to update our investors on where valuations now stand and how recent events have impacted our outlook for book-value growth which remains the key long-term driver of our Fund's performance. Although the Fund has held up well compared with its benchmark and financials more generally, the sector decline has been more in line with broader market averages than we believe its defensive characteristics would usually warrant. The sector derating has been severe. As of the close of business on 12 March, the Dowling & Partners US industry price-to-book index was 116% (of expected 1Q20 book values) compared to c150% at the end of 2019.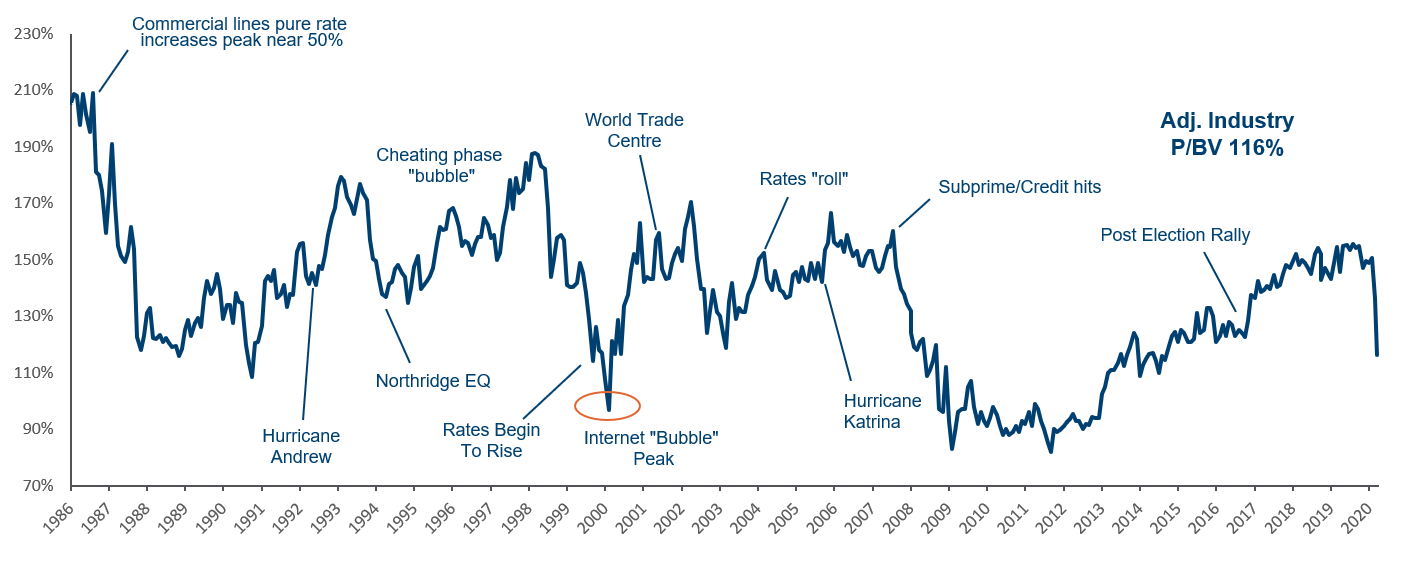 Source: Dowling & Partners, 12 March 2020. Excluding AIG and Berkshire Hathaway (includes Bermuda). Past performance is not indicative or a guarantee of future returns. It should be assumed that recommendations made in the future will be profitable or will equal the performance of the securities in this document. A list of all recommendations made within the immediately preceding 12 months is available on request.
As things currently stand, we would expect a negligible decline in book values for our companies for 1Q20 with underwriting profits close to offsetting relatively modest investment losses. As we have regularly commented, the vast majority of non-life insurance companies have conservative investment portfolios as they need liquidity to pay claims (bond durations of typically 2-3 years). The decline in bond yields we have seen in the quarter to date will in many cases be sufficient to offset widening spreads on, for example, corporate bond holdings. Dowling & Partners estimates an average 2.5% decline in book values this quarter from investment losses (ie before underwriting gains) with this number being somewhat skewed by some well-known holders of equities such as Berkshire Hathaway and Markel (both owned in the Fund). This ability to preserve capital given what we have witnessed in recent days speaks to the defensiveness of our sector.
A longer-term question is the impact of lower investment income on future earnings power. For the past year or so we have commented that we expect 10%+ book-value growth for our companies. We have included the derivation of this in our Fund presentation and this is repeated in the table below.
Our companies grow book values from two key sources: underwriting profits (by how much premiums exceed claims) and investment returns. Our previous 10%+ expectation had c55-60% of book-value growth driven by underwriting and the balance from investing. A key attraction of the non-life insurance business is that you can reprice your policies annually to reflect the investment environment you are operating in (very different from, say, life insurers who often sell multi-year policies). We believe the lower expected investment income our companies now face will add further momentum to the acceleration in (re)insurance rates we have discussed extensively in recent fact sheets.
The current rate of investment return is a moving target given today's volatility but we think 1.5% is reasonably conservative looking forward. This is 1% lower than our previous estimate, as the table below shows. Our US exposure continues to be c70% and therefore will have virtually zero exposure to negative-yielding assets. The impact of this is being somewhat offset by better underwriting margins and leverage expectations as our companies continue to capitalise on what we believe is the best underwriting market for at least the past five years. From here we expect c70% of book-value growth to come from underwriting profits.
Book-value growth
Source: Polar Capital, March 2020. All opinions and estimates constitute the best judgment of Polar Capital as of the date hereof, but are subject to change without notice, and do not necessarily represent the views of Polar Capital.
The key message we want to give is that trajectory of book-value growth, therefore, does not look much different to where we started the year. It is the price you pay for that book-value growth that has changed (ie 116% today versus c150% at start of year for the US industry). Another important difference between now and then is that share buybacks will likely pick up as companies take advantage of Mr. Market which will further support future returns.
These are of course difficult times, but we believe more strongly than ever that the non-life insurance sector with its defensive qualities at these overly depressed valuations will deliver value to our investors over any reasonable time horizon. That is why Dominic and I added to our personal holdings in the Fund last week.