Emerging Markets & Asia
|
17 Apr 2020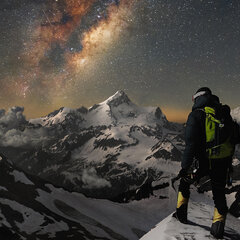 Jerry Wu
Fund Manager, Emerging Markets & Asia Team

Andy Chen
Head of Research (Shanghai-based), Emerging Markets & Asia Team
On 8 April, as many parts of the world were expecting lockdowns to be extended, Wuhan – a city with 11 million residents where it all began – emerged from its own 77-day lockdown. In this note, our colleague Andy Chen, who is Head of Research in our team and based on the ground in Shanghai, shares his experience. Through these snippets and bottom-up data sets, we analyse how various businesses are faring in an unprecedented crisis, how technology companies are assisting citizens and governments against the virus, and how fast China is getting back to normal. As we are witnessing encouraging progress in many parts of Europe and the US, this is also a glimpse into life on the other side of COVID-19.
Daily new COVID-19 cases in China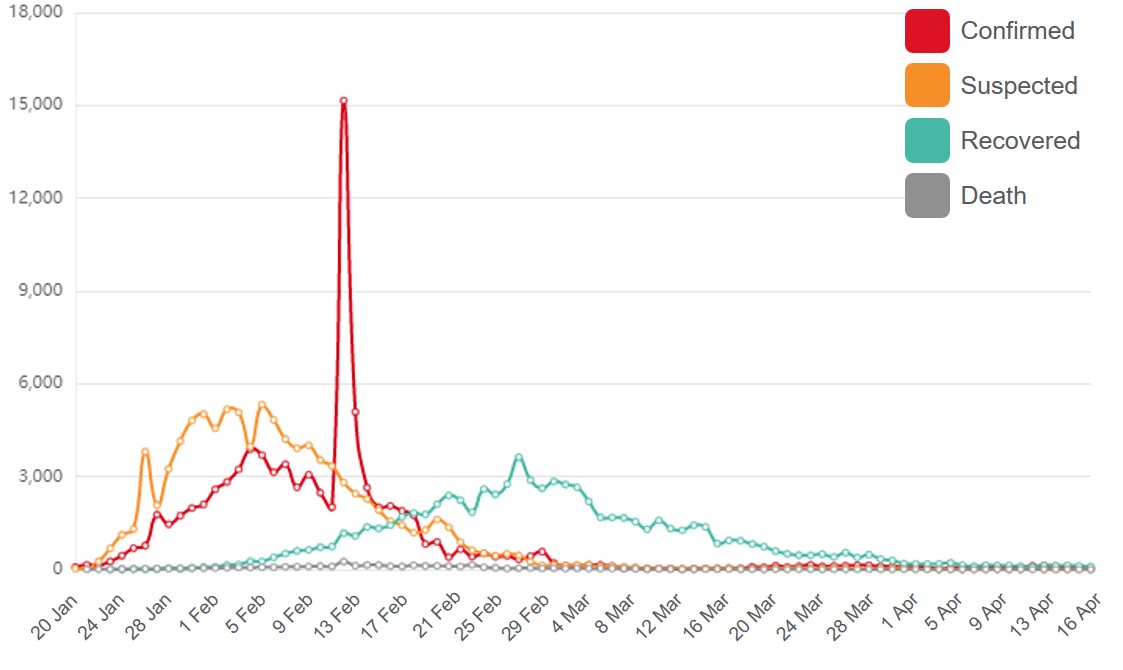 Source: CEIC & NHC, 16 April 2020.
Andy Chen, Head of Research (Shanghai-based) writes: 'The lockdown in Shanghai was strict, with over 90% of people advised to work from home. As of the second week of April, most of the working population have returned to work although some companies are still adopting a rotating schedule. All the schools remain closed though there are plans in some cities for middle schools to open towards the end of April or early May. Cinemas remain shut, and even though restaurants and other service businesses are resuming normal business hours, everyone is still encouraged to wear face masks. China managed to expand its face mask production nearly 12-fold within a month, to a daily production volume of 100 million. Face masks and hand sanitiser are now widely available in supermarkets. People's mentality in general is cautiously optimistic. The next few weeks will be critical to observe whether there will be a second wave.'

'Technology-enabled tracing plays an essential role in the war against coronavirus. The government has been working closely with Alibaba and Tencent to collect data in their efforts to prevent the virus from spreading. At almost every destination, each person is asked to show their individual QR code, which is linked to their ID and other information stored on either Wechat (Tencent) or Alipay (Alibaba), the two dominant mobile payment platforms in China which together cover over 1.1 billion people. Individuals are not allowed to take the subway, hail a taxi or enter an office building without a valid QR code which is updated in real time and colour-coded. A green code shows the person is not under quarantine and can move around the city freely, but those with yellow and red codes need to quarantine themselves at home or undergo supervised quarantine, respectively. This is how the authorities identify and track high-risk individuals.'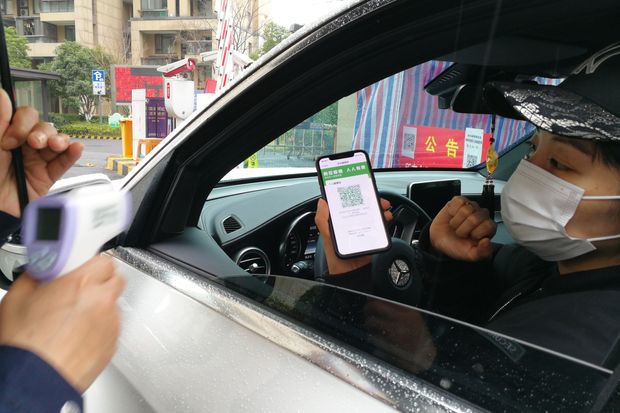 Early casualties
'We are starting to see some early casualties in the hospitality industry. One of the popular high-end restaurants, Hakkasan Shanghai, has been permanently closed since 13 April. Four Seasons Hotel in Shanghai Puxi is also closed after 18 years of operation. According to a third-party data provider, 460,000 companies filed for closure during the first quarter. Some companies have encouraged staff to take 2.5 day weekends. Local economists expect the short-term frictional unemployment to reach over 120 million. On the positive side, one phenomenon I noticed is that omni-channel players including Hema (Alibaba's grocery shopping platform), Eleme (Alibaba's food delivery service) and Meituan (a food delivery platform) are in urgent need of labour following a surge in delivery demand and have been borrowing labour from restaurants which are experiencing a massive drop in footfall or closure. Could this become the new norm in the gig economy?'

Changing habits
'Due to social distancing, people are buying everything online. My 60-year-old parents who used to shop at supermarkets have largely shifted online for groceries during the outbreak. Apparel and cosmetics companies are moving their beauty advisers to become online influencers, selling goods on Wechat.'

Policy support
'Policies have been rolled out to support businesses and consumers. Value-added taxes from small firms have been lowered from 3% to 1% from March to May. Local authorities are offering digital shopping coupons in Alipay and Wechat to stimulate consumption.'

Stay-at-home entertainment
'Digital entertainment such as online gaming and video-streaming platforms have seen increased usage and faster subscriber growth. For example, the gross billing for the top two Tencent mobile games during the Chinese New Year period increased by 45% y/y.'

Tourism
'A total of 43 million tourists travelled in China during the three-day Qingming Festival holiday (4-6 April), down 61% y/y. Bookings are expected to continue to recover during the five-day public holiday starting 1 May. It is hard to imagine many people taking international holidays this year due to global travel restrictions.'

Lingering uncertainty
'Most of the companies at this point are unable to provide financial guidance for the rest of the year. Not surprisingly, certain sectors, such as e-commerce, are gaining market share as a result of the lockdown whereas others, such as the export industry, are facing an uncertain outlook.'
Andy's on-the-ground experience points to a country that is eager to get back to its normal life but is still hindered by the lingering concern of a potential second wave. We summarise the following two general observations:
Supply has recovered faster than demand. As of early April, 80-90% of industrial production capacity and 70-80% of service supply has recovered. On the demand side, the recovery has been slow, and it varies materially in different industries.
E-commerce leads the demand recovery while the hospitality industry lags. Gross merchandise volume (GMV) in Alibaba's core e-commerce has recovered and returned to growth from April. Meituan's food delivery orders have recovered to c75% of their pre-coronavirus level. On the other hand, airline passenger traffic is only c30% of the normal level and the ramp-up continues to be anaemic. Hotel occupancy has recovered to c40%, mainly driven by some recovery in regional short trips and heavy promotions. Budget hotels are doing better than high-end ones.


As long-term investors, our focus is the intrinsic values of businesses. Despite the severe impact of coronavirus on the short-term earnings of many businesses, the long-term intrinsic values of some will be virtually unaffected. Our job in times like this is four-fold:
Buy assets with intact long-term fair value which have sold off because of a short-term earnings impact. During the sell-off, we found some interesting opportunities including cheap shares of a semiconductor chip designer, an airports owner, a software solution provider to the aviation industry and a workforce solution provider. These assets are likely to suffer a deep cut to their 2020 earnings, but with strong cash flow and balance sheets, they will recover.
Buy assets not impacted by coronavirus that declined through sentiment. The 'babies thrown out with the bathwater', for example, include a video game company and a property management services business.
Buy assets with higher intrinsic values as a result of structural shifts triggered by coronavirus. Some of our existing portfolio investments in digital entertainment, e-commerce, data-centre infrastructure and enterprise software we believe will benefit from the long-term implications of coronavirus. We added to those investments.
Sell assets with permanently impaired fair value. Partly due to our investment strategy and partly due to pure luck, we headed into the coronavirus turbulence with almost no exposure to highly leveraged businesses that have been directly impacted. However, we did sell two small holdings in an apparel retailer and a shopping mall landlord, mainly to fund better opportunities elsewhere.


China started its normalisation process in March and things are slowly heading in the right direction. Things should return to normal around or after the summer. In Europe and the US, more stringent measures have been taken and we are hopeful that things should start to normalise in the second half of the year. While this remains our base case, the portfolio is well prepared for a lengthy period of uncertainty and high volatility. Our portfolio holdings have strong balance sheets, high structural growth potential and are trading at very reasonable prices. We look forward to the future with confidence, and we thank you for keeping your eyes on the horizon.