Global Convertible
|
20 Apr 2020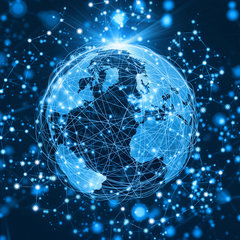 David Keetley
Fund Manager, Global Convertible Team

Stephen McCormick
Fund Manager, Global Convertible Team
We have often spoken of the robust nature of convertible primary markets and their ability to weather economic disruptions that paralyse issuance elsewhere within fixed income. This quality we have ascribed to multiple factors including the diversity of convertibles' investor base, the uniquely easy ability to hedge convertible holdings, and the asymmetric nature of convertibles' risk/reward. These same qualities enabled convertible primary markets to remain open in 2008 when the global financial crisis froze high yield markets. Similarly, they are driving continued strength in issuance in 2020 even as high yield markets have been largely frozen since mid-February.
This has important implications for both issuers and investors – it is enabling companies to continue to raise capital which has helped to broaden the appeal and reach of the convertible market. As a result, the opportunity set for investors in convertibles continues to grow in quantity and diversity. With these deals pricing at increasingly attractive levels, the result is a further improvement in the risk/reward on offer for convertible buyers.
Convertible market primary activity effectively restarted on 27 March when Zur Rose issued a €175m bond in Europe. Over the subsequent two weeks, there have been 14 deals totalling $7.3bn in size. As a result, despite no issuance for three weeks in March during the height of COVID-19-related market disruption, 2020 convertible issuance is running ahead of last year's pace which itself was the highest since prior to the global financial crisis (see the chart below).
Convertible issuance

Source: BofA Global Research*, April 2020.
This stands in stark contrast to the contraction seen in high yield primary markets. Although high yield issuance enjoyed a very strong start to 2020, during the market turbulence it has largely collapsed. Since the initial market selloff on 20 February, high yield issuance has dropped 51% compared to the average issuance for this period from the past decade. In contrast, convertible issuance is 3% above the 10-year average for this period1.
This issuance has come from a broad variety of issuers. Convertibles have served as the backbone of emergency capital-raising from companies like Carnival Cruise Lines who have seen their businesses negatively impacted by coronavirus, companies such as Slack Technologies who have seen virus-related disruptions cause material increases to demand for their products, and companies such as Nevro for whom the virus has had few direct implications.
Issuance has ranged from deal sizes below $200m to as large as $2bn for Carnival and have offered a range of coupons, premiums, duration and call protection. At the same time, all deals were raised with short lead times, typically overnight, and with underwriters generally able to exercise greenshoe options. These highlight the attraction of the asset class for issuers – during times of disruption it offers unparalleled flexibility and ease in raising capital, something which both explains the recent strength and augurs well for its continuation.
Although the issuers and issues have been diverse, all deals share that pricing has been attractive. As a result, all the recently issued bonds have been well received by the market. The average pricing on US new issues in April has been a 3.3% coupon and a 28% conversion premium; this compares to a six-month trailing average pricing of 2.3% coupon and 34.4% conversion premium2. This material cheapening is easily seen in the chart below. Given this, the strength of the investor reception is unsurprising.
Average pricing of new US issues in April 2020

Source: BofA Global Research*, April 2020.

The strength of demand for all these deals speaks not only to the robust nature of the asset class, but also the diversity and health of its investor base. During times of increased volatility, convertible bonds provide unique value. Not only are they the rare asset class that is positively impacted by rising volatility, but during periods of market turbulence, the asymmetric nature of their return profile (capped downside, unlimited upside) is inherently appealing. As a result, such episodes typically see non-traditional buyers of convertibles return to the asset class in search of value and improvements in risk/reward. This has been the case during the recent turmoil as well – something which has supported both secondary market pricing and liquidity as well as primary market opportunities. As a result, we do not believe that ongoing strong issuance will have material impacts on secondary market valuations as the market appears more than capable of digesting a considerable volume of new paper.
Looking forward, we remain very constructive on the prospects for the asset class. With equity markets remaining volatile and high yield primary market activity remaining subdued, we believe issuers will continue to see convertibles as an attractive source of financing. Thanks to their diverse and healthy investor base, convertibles offer a wide variety of issuers a means to rapidly access capital markets at attractive terms in ways that other fixed income markets may not be able to. As a result, we believe convertible issuance is likely to remain healthy for some time. In addition, due to the attraction of the asset class for investors, strong issuance should not have negative implications for secondary market returns. Instead, we believe this issuance represents a clear positive for the market – an increase in the quality, quantity, and diversity of the convertible bond opportunity set.
1 Bloomberg.
2 Bank of America.
* Reprinted by permission. Copyright © 2020 Bank of America Corporation ("BAC"). The use of the above in no way implies that BAC or any of its affiliates endorses the views or interpretation or the use of such information or acts as any endorsement of the use of such information. The information is provided "as is" and none of BAC or any of its affiliates warrants the accuracy or completeness of the information.