Global Healthcare
|
28 Apr 2020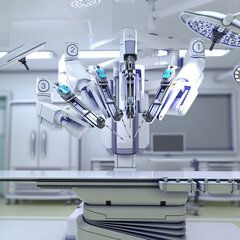 James Douglas
Fund Manager, Global Healthcare Team
COVID-19 has brought the healthcare sector into sharp focus, driving and in some cases accelerating demand for products and services. At the same time, we believe valuations are extremely compelling while we have only just begun to see a change in sector leadership. Blue chip companies, with their defensive, sustainable growth and strong balance sheets and cash-flows, are uniquely positioned to benefit, with five factors supporting the sector.
Compelling valuation
Market leadership
Robust growth outlook
Accelerating demand
Resilient blue chip profiles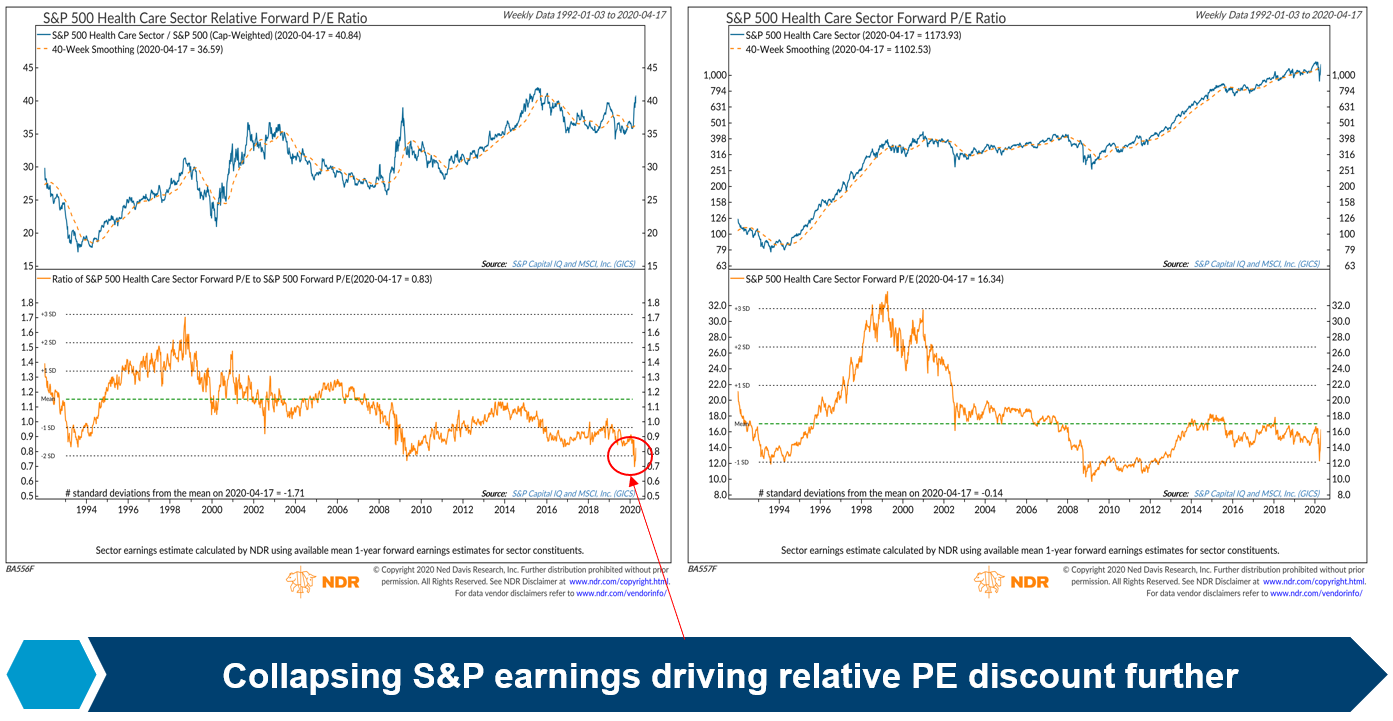 Source: Ned Davis Research Inc., 3 January 1992 to 17 April 2020. Sector earnings estimate calculated by NDR using available mean 1-year forward earnings estimates for sector constituents. Copyright 2020 Ned Davis Research, Inc. Further distribution prohibited without prior permission. All Rights Reserved. See NDR Disclaimer at www.ndr.com/copyright.html.
Compelling valuation
The S&P 500 US Healthcare sector is attractively valued, approaching levels that we last saw back in the early 1990s and in the 2008-2009 troughs. Both of those periods of stress were caused by the political landscape in the US and resulted in a strong recovery once resolved. We believe that today's valuations offer significant upside potential relative to the broader market.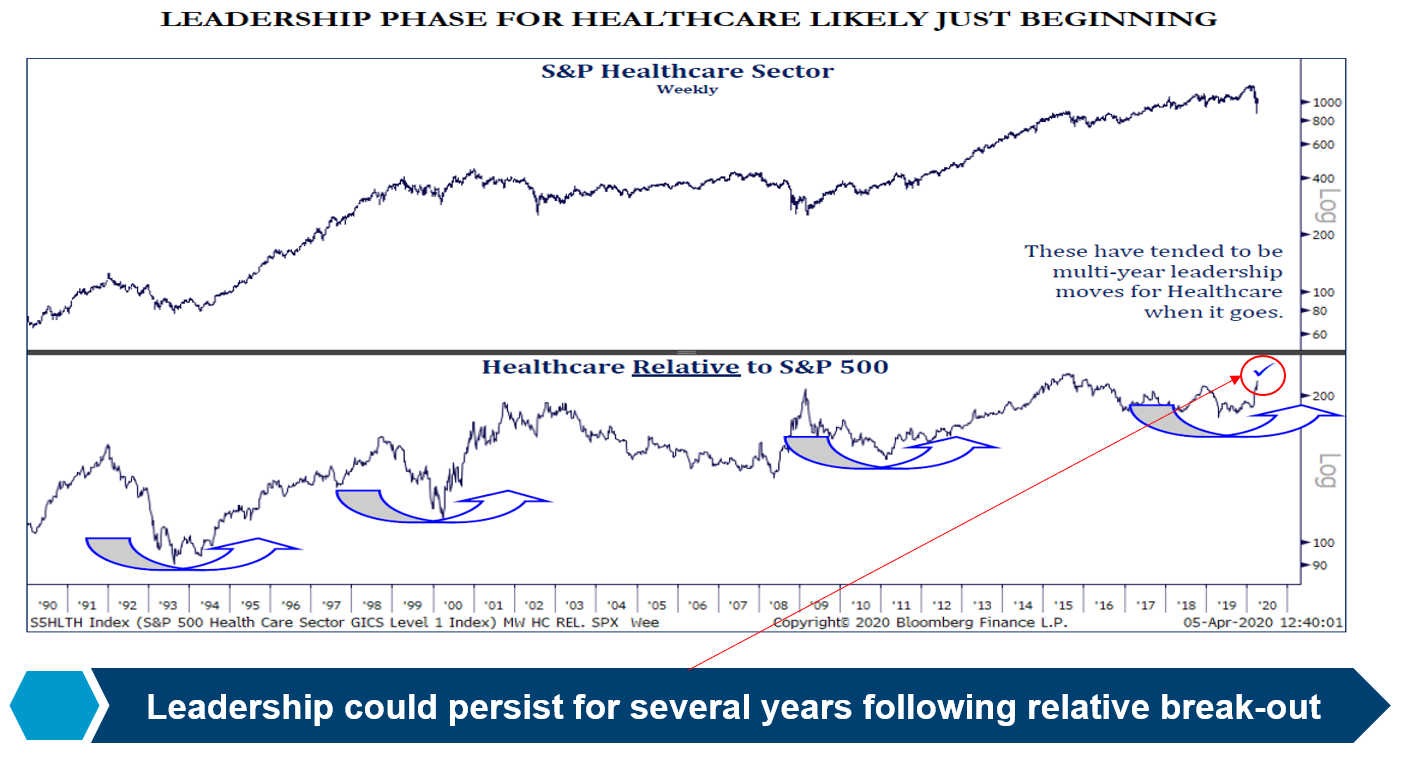 Source: Strategas, 5 April 2020.
Market leadership
Relative to the S&P, the healthcare sector is demonstrating technical leadership and this could persist for some time, assuming industry fundamentals remain intact. It is unlikely to be a coincidence that we saw similar breakouts in the mid 1990s and in 2010 once the political landscape in the US became much clearer.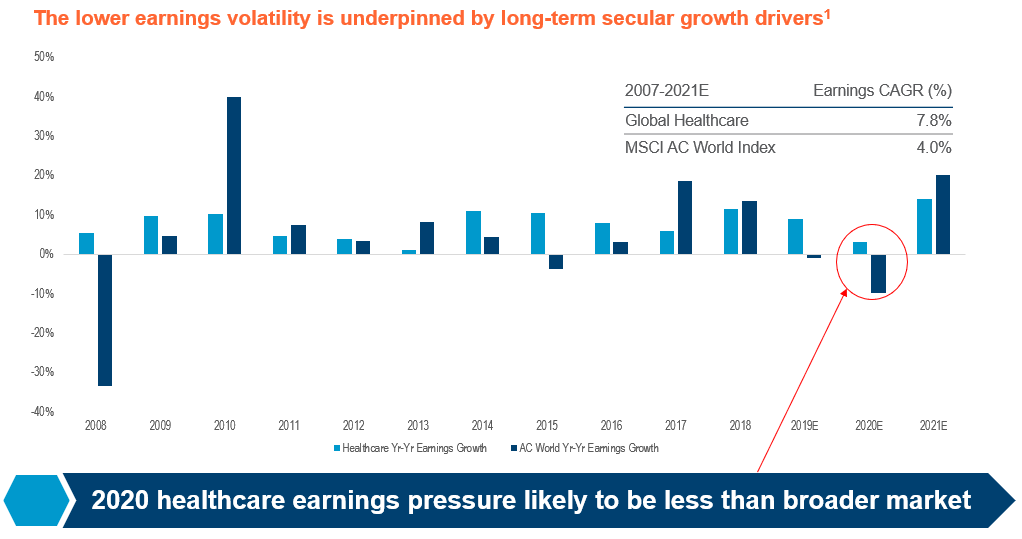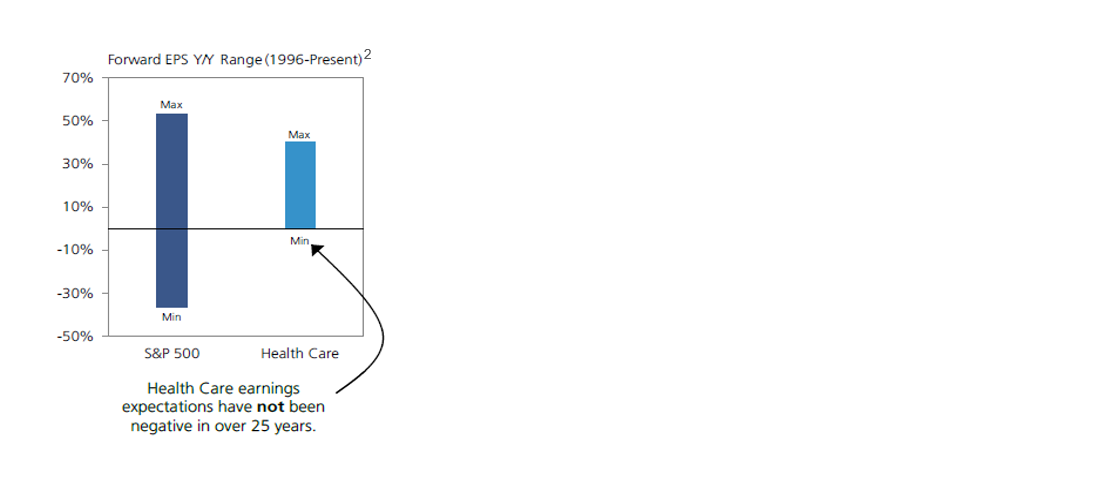 Source:1Citi Research, 17 April 2020. 2UBS Research, 16 October 2019.
Robust growth outlook
Year-on-year earnings growth for the healthcare sector versus the broader market highlights three key points:
1) As at 17 April 2020, the sector is forecast to deliver positive earnings growth versus the broader market's decline in 2020
2) The sector has a 25-year track record of delivering positive earnings growth
3) The healthcare sector is delivering more earnings growth than the market. We believe that this earnings profile deserves a premium rating to the broader market whereas today, the S&P 500 US Healthcare sector is sitting on a discount (see 1. Compelling valuation)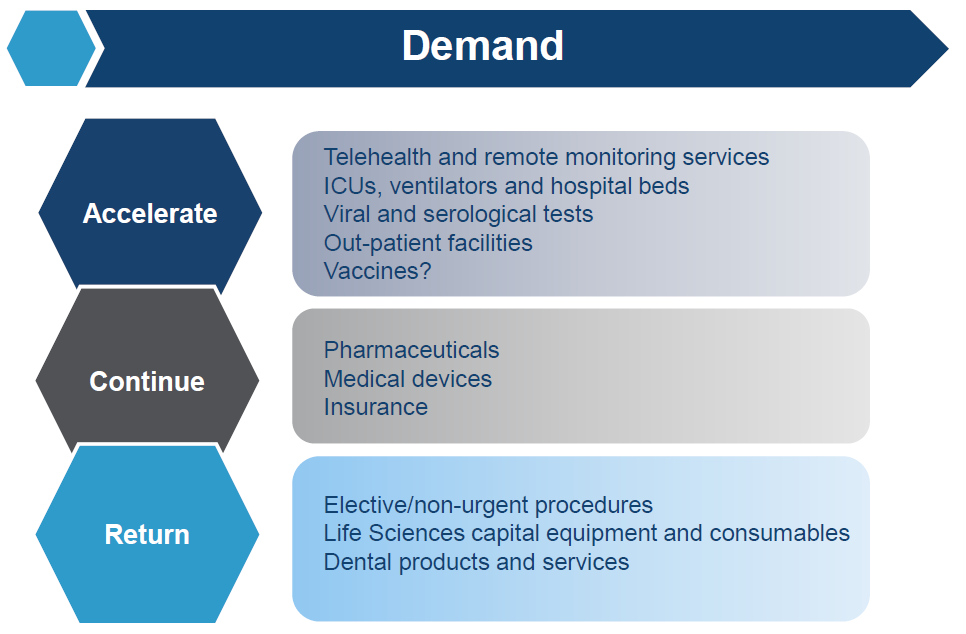 Source: Polar Capital.
Accelerating demand
Demand for healthcare products and services is robust and is expected to accelerate post COVID-19, driven by an increased appetite for frequent screening, telemedicine and digitalisation of healthcare. We also anticipate an acceleration in demand for medical equipment such as ICUs, monitors and ventilators.

We also anticipate a recovery in the demand for elective procedures that have been postponed or cancelled to make room for COVID-19 patients as well as life sciences, capital equipment and consumables. Depending on the economic outlook, this has the potential to expand into dental products and services.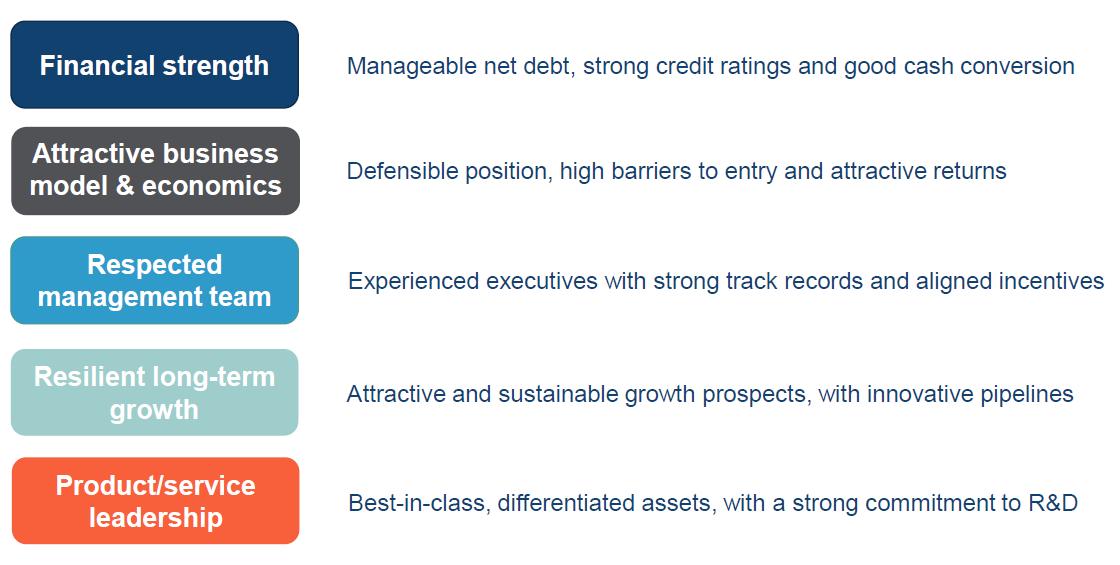 Source: Polar Capital.
Resilient blue chip profiles
Blue chip companies are especially well positioned in uncertain health and economic times. The Polar Capital HealthCare Blue Chip Fund has a diverse universe from which to invest but we focus on the characteristics on the left.

Find out more about the
Polar Capital Healthcare Blue Chip Fund.