Emerging Markets & Asia
|
06 May 2020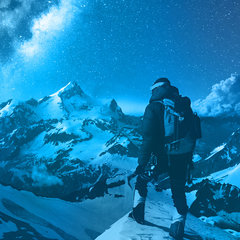 Jorry Nøddekær
Lead Fund Manager, Emerging Markets & Asia Team
We recommend reading this commentary alongside our recent webcast looking at a post-coronavirus emerging market world as well as a view from the ground in China from our Shanghai-based Head of China Research, Andy Chen and Fund Manager Jerry Wu. In them, we explain how we saw the market opportunities and risks at the time while our structural outlook, largely unchanged, is detailed below.
We remain positive for our Fund over the next 12-18 months while at the same time acknowledging we cannot rule out big sentiment swings that may weaken the market in the short term – we are likely to receive weak data points on the global economy in the next few months. The blame game is also in full swing, with Donald Trump blaming China and hoping this will save his election campaign while China is blaming the US, trying to distance themselves from 'Wu-flu' branding.
Emerging markets have rebounded c18-20% since the middle of March where it looks like we hit the lows in the market – we certainly hit panic valuation levels – so the easy money has to some degree been taken off the table (developed markets did even better). Looking at the fundamentals of the stocks in our portfolio, while we cannot provide any guarantees, we believe they offer an attractive risk/reward over a 12-18 month time horizon.
Macro impact on stock prices
Do these stocks need a big macroeconomic recovery to outperform? This will help, but we see our stocks being more fundamentally linked to microeconomic trends and industry-specific drivers, linked to geographies where we believe the underlying economic growth environment is fast growing and where COVID-19 will have a limited impact here over that same time horizon, particularly in Asia. We feel most of Asia will return to its trend growth rate in 2021, with the recovery starting from H2 2020.
Sentiment is weak and reflects a lot of understandable nervousness given this is an unprecedented situation. It is our duty to be long-term focused and to the best of our capabilities identify where markets are too pessimistic and where we believe that even in a conservative forecasting environment there is a significant mispricing of future economic value added that these companies can create. For example, we have strong exposure to the 5G rollout and the structural changes in the semiconductor industry. We strongly believe we are at the forefront of a massive technology upgrade cycle driven by 5G, high-performance computing, the internet of things, online services and industrial automation. We originally expected the 5G inflection point to be around the Apple 5G launch at the beginning of H2 2020. However, that could be delayed and the inflection point moved into Q1 2021 or even H2 2021.
Is a slower delivery of 5G services reflected in stock prices in some of these Asian tech companies? In our view, yes. Our argument is that a lot of these companies are discounting low return expectations over the medium to longer term, which is precisely why we have a constructive view on the stocks and have them in our Fund. Even if 5G and the other big themes are delayed, in the intermediate period many of these companies are likely to benefit from the 'work from home' trend and data centre upgrade cycle on the back of a significant increase in the demand for streaming services during this global lockdown. We may see a disappointing quarterly earnings number in the next 6-9 months but in general we see a high enough level of sustained earnings and strong balance sheets to get these companies through. Also, we see medium-term implied profitability expectations as low. Therefore, even if you think we are too optimistic in our forecast, in our view there is a big buffer given the low implied profitability in the market.
Timing will always be difficult, and everybody has their own tolerance to risk in periods like these. While some will disagree, our view is that the worst is behind us in terms of equity returns and therefore, the current risk/return profile for EM equities is attractive on a 6-9 month view. The same rationale can also be used for the stocks we hold in some of the more domestic demand-driven markets like China, India and Vietnam where our portfolio has domestic consumer demand exposure, particularly to online services, a core focus for us over the years.
Outlook
Will countries like China and Vietnam be hit by a second wave of COVID-19? There is the possibility but we believe the stocks we hold here have strong staying power and the implied expectation for profitability over the medium term fits with our valuation framework. For example, we do not have exposure to the likes of the travel or restaurant industry.  
Our view on the US is for a V-shaped recovery, hitting its trend line in 2021 with its recovery starting in H2 2020, still allowing for the likes of the travel and restaurant industries a longer period to recover. Economists are referring to a '90% economy' in the US and our take on this is that an almost full recovery will be acceptable given the situation we are in now. It is a risk over the medium term and will be a real risk if the '10% economy' does not recover within 18-24 months, with us seeing a drag on the banking sector and weak investment. We still believe in people and their ability to adapt and be innovative and we believe that in 12-18 months things will look a lot better. The policy response will get the global economy through this and we will catch up with the old trend curve on which some industries and companies will come out of this a lot stronger while others will be much weaker.
We think this is a crisis of shorter-term demand and liquidity which started out as supply-side crisis thanks to COVID-19
This is hardly a consensus view so are we being overly bullish? Put simply, we think this is a crisis of shorter-term demand and liquidity which started out as supply-side crisis thanks to COVID-19. This will only become a structural issue if it develops into a solvency crisis for the healthy parts of the economy (the '90% economy'). We have no more foresight than anyone else but we believe we will avoid this as a result of unprecedented policy response from policymakers who have learned valuable lessons from the global financial crisis. Liquidity is getting to where it is needed – for example, the CARES Act is ensuring people receive a cheque which is partly why we are seeing so many filing for unemployment benefit. The US will recover, and even an acceptable recovery will be enough to generate the demand we need for our bottom-up argument in Asia to perform well from a fundamental perspective. We have been impressed by how well countries like South Korea, Taiwan and Vietnam handled this crisis, clearly leaving many question marks on the political leaders in the western world.
Fund activity (as at 4 May 2020)
We are pleased to have been able to deliver a strong relative performance since launch for our clients, particularly given the number of events in that time such as the trade war, a weakening growth environment and now the COVID-19 pandemic.
It is still early days for the Fund so it is gratifying that independent data from eVestment, looking over the longer term, shows us in the top 5% when compared to our peer group since inception in June 2018. As those who follow us closely know, the strategy had a bumpy start as the Fund launched straight into the US/China trade war, the technology downcycle and Fed rate hikes (or so it was believed back then). However, we believe focusing on picking star companies over the long term and sticking to a strong process has helped our relative performance.*  
Furthermore, we have high conviction in the quality of the portfolio from an ESG perspective thanks to our integrated ESG process which incorporates ESG analysis in a quantitative and systematic manner into our Economic Value Added (EVA) framework.
The Fund's full performance can be found on our website.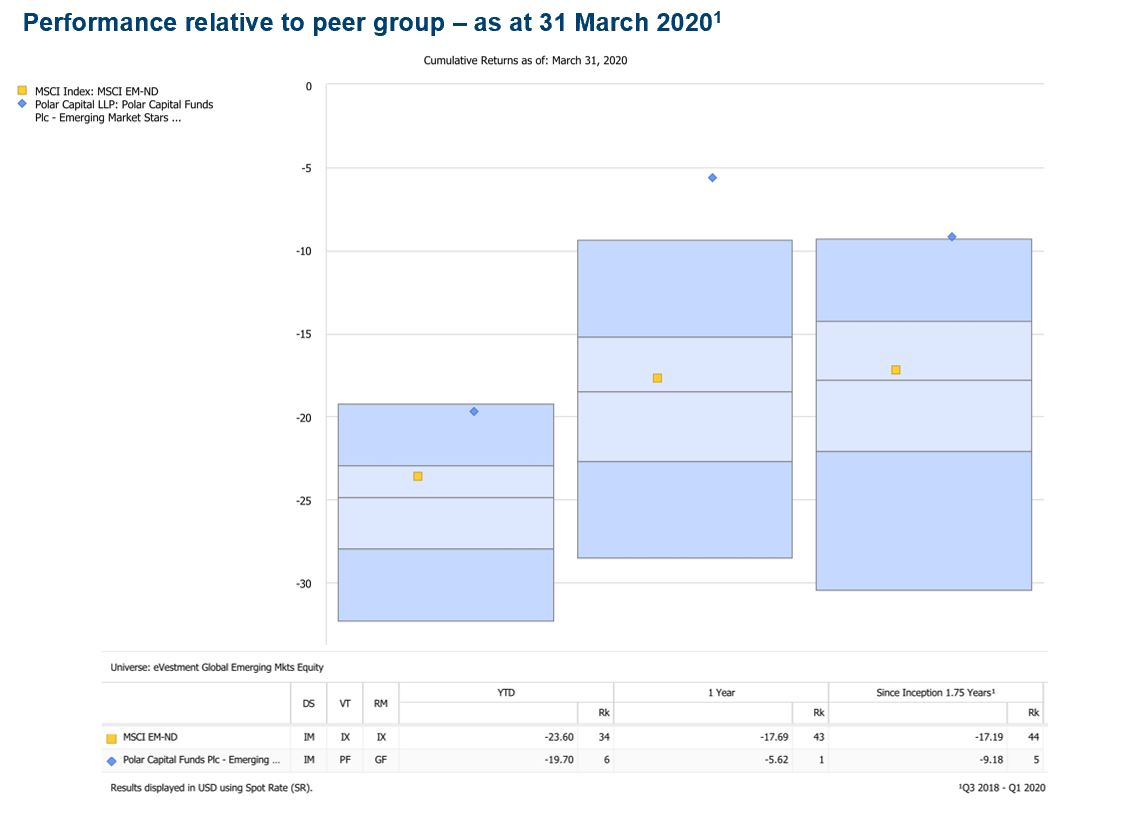 *Source: eVestment, 31 March 2020. Polar Capital Emerging Market Stars Fund, I USD Share Class. The Fund was launched on 29 June 2018. The comparisons represented herein are included for illustrative purposes only and investors must read the Polar Capital – Emerging Market Stars prospectus prior to making a decision to invest. Past performance is not indicative or a guarantee of future results.
Going into this crisis, we had very little exposure to companies with weak business models and we are still not looking to pick up cheap but structurally weak companies. In a few cases we have bought new companies though, for the main part, to the core of the Fund we have been adding high quality technology companies with great business models around 5G and semiconductor/memory technology with strong balance sheets where we still see a favourable medium to long-term outlook. If anything, COVID-19 has shown the increased need for these technologies and their shares prices in absolute terms have fallen during this period, admittedly less than the overall market, so we have taken advantage of what we see as an improved entry price.
The same argument goes for some of our e-commerce and online entertainment holdings that also form the core part of the portfolio. Examples here would be Samsung Electronics, SK Hynix, MediaTek, KMW, Alibaba Group Holding, Mercadolibre and Chroma ATE as well as one of our newly re-introduced stocks, Prosus, which also gives us additional exposure to Tencent.
We have also been buying in markets that have been considered high risk and experienced significant share price drops but where we still believe offer significant long-term return opportunities. Examples here are markets such as India, Brazil and Vietnam where risk is perceived as extremely high and sentiment very weak. We see the market reaction in India and Vietnam as extreme and the risk/reward there is compelling for a number of the companies we follow there. At the same time, we do recognise that GDP growth is reducing in India and Brazil over the short term so we have optimized our exposure here through increasing our holdings in Phoenix Mills and Vincom Retail (mall companies in India and Vietnam respectively). We also have a new investment in Indonesia, a market where we see an interesting opportunity emerge in BTPS, a micro lender focused on women – we believe this is one of the best impact companies across all emerging markets – that we have liked for a long time. It always felt too expensive but BTPS dropped c50% during March and we bought it at what we believe is a very attractive entry price.
To fund these we have been selling out of or reducing exposure in selective online entertainment companies (BiliBili in China) and healthcare (Microport Scientific in China) as well as Samsung SDI.
We have been active during this period having seen huge changes in fundamentals alongside huge movements in share prices so we took advantage of a period of market dislocation as long-term investors. 
COVID-19 and the opening up of the global economy from lockdown will be complicated and come with great uncertainty. However, we strongly believe that our stock-picking approach, our focus on sustainability and true EVA-creating companies, as well as growth coming from microeconomic trends will help us navigate the short-term volatility and come out stronger on the other side.