Emerging Markets Income
|
05 Jun 2020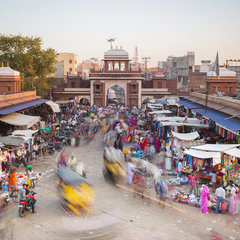 William Calvert
Lead Fund Manager, Emerging Markets Income Team
The issue of income has become increasingly complicated for investors over the past few years and has been exacerbated by the current crisis. What started with a collapse in bond yields, which at one point resulted in over $17trn of government bonds with negative yields, has now spread to equities. Nowhere will this be felt more severely than in the UK where expectations of dividend cuts are now running at over 40% through 2022.

December 2022 Dividend Futures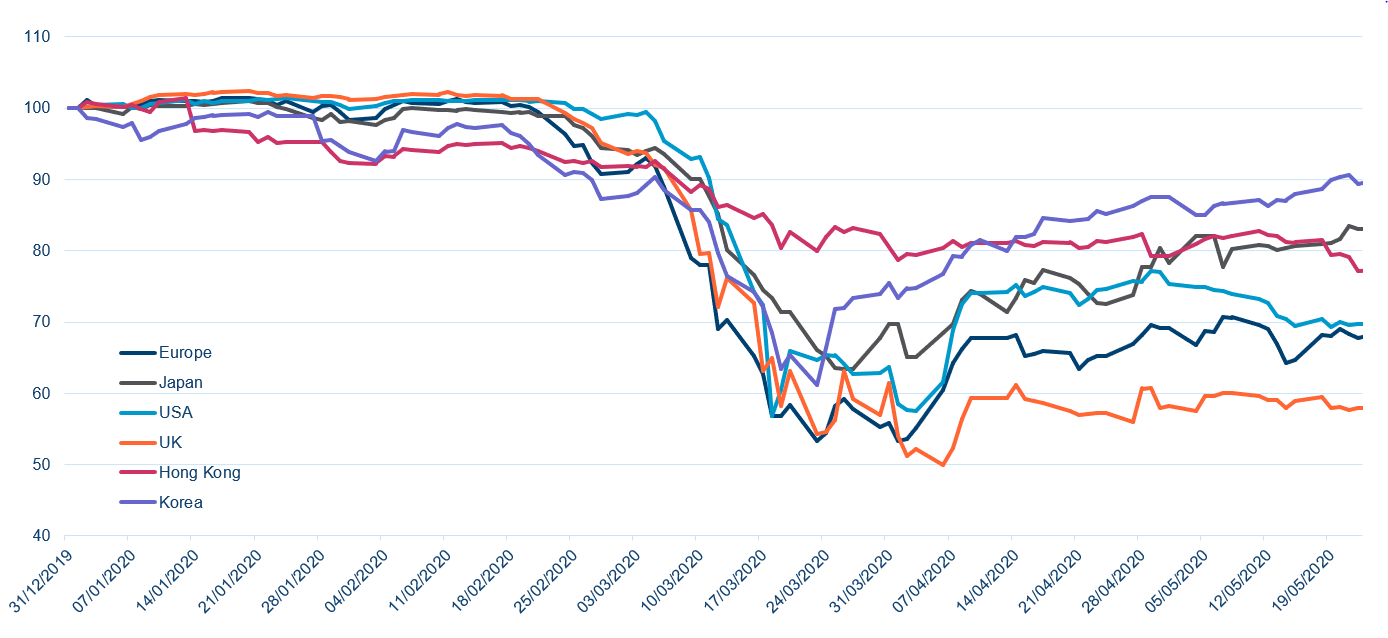 Source: Bloomberg, 27 May 2020.

If the UK is going to be a poor source of dividend income over the next two years (at least) then where else could investors look? The chart above shows Europe and the US also fare badly according to the futures index, while Japan has held up relatively well. The data is more limited for emerging markets but we do have statistics for both Hong Kong, where most large Chinese companies are listed, and Korea, the third largest component of the benchmark. In both cases the expectation is for much lesser declines for dividend income than elsewhere.
Ultimately, dividend outcomes are going to be decided by a combination of:
Earnings growth
Pre-crisis payout ratios
The level of corporate leverage
The severity of the economic and earnings downturn
The speed of recovery


Earnings growth numbers still look optimistic, especially for 2021, with the net result being that earnings in 2021 are expected to be higher than in 2019 in the US, Europe, Japan and emerging markets. Given the extent of the drop in economic activity in 2020 and the unlikely prospect of a V-shaped recovery we expect further downgrades.
Historically and in aggregate emerging markets have had a higher yield than developed markets, yet have achieved this with a lower payout ratio largely reflecting the low payout ratio in the US and the much higher valuations in that market. The UK is different in that it has had a higher yield than both but has achieved this through a high, and arguably unsustainable, payout ratio.
Payout dividend yield (1996 to 2020)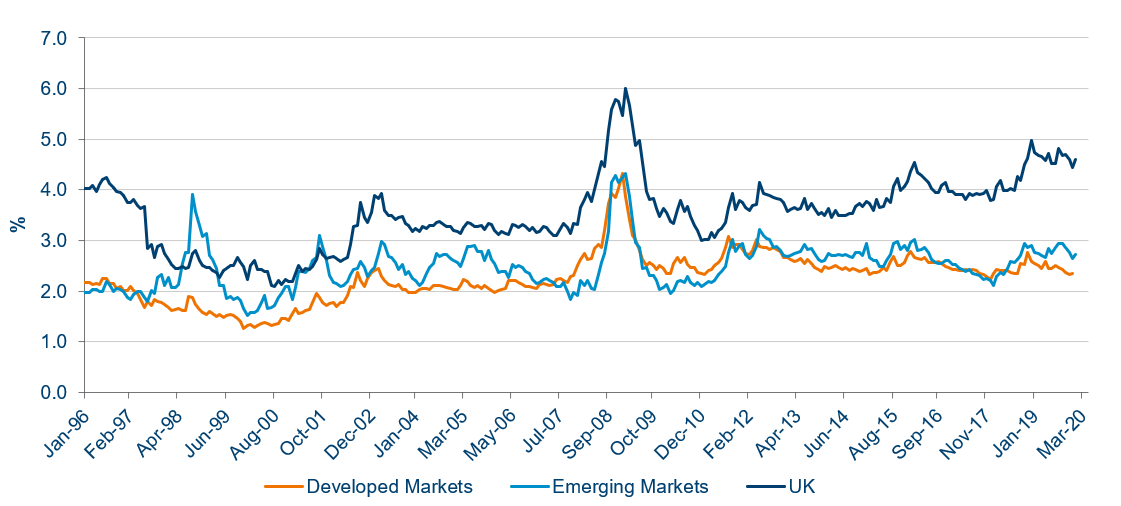 Source: Bloomberg, 31 January 1996 to 31 January 2020.
Payout ratios (1996 to 2020)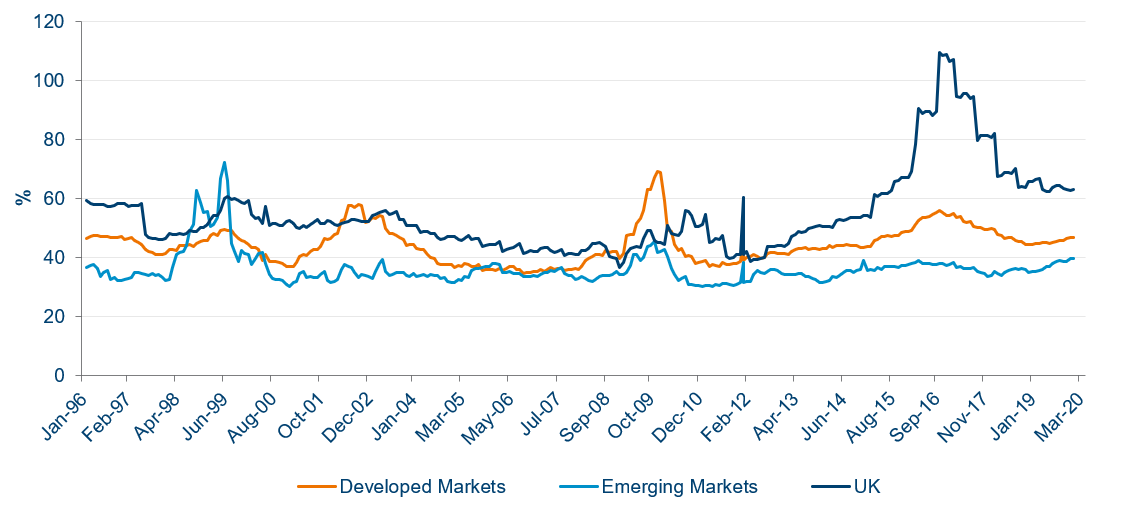 Source: Bloomberg, 31 January 1996 to 31 January 2020.
In terms of leverage, the net debt to EBITDA ratio by sector is lower in emerging markets than in the UK in all sectors except for industrials, and lower than in developed markets in all sectors except consumer discretionary, materials and industrials.
Net debt to EBITDA by sector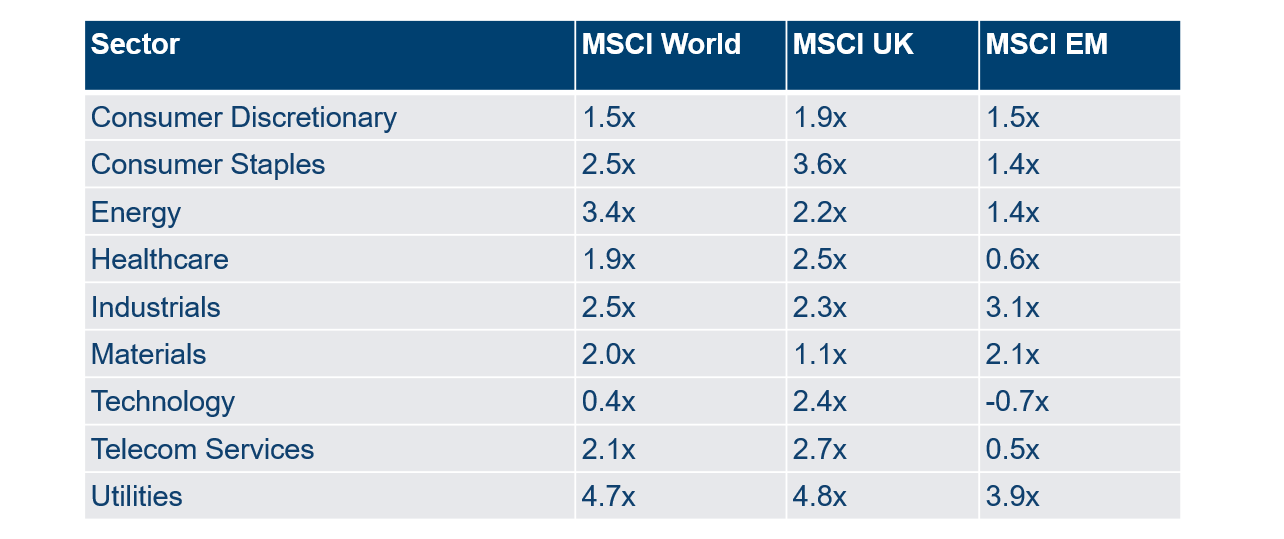 Source: MSCI; Polar Capital, 27 May 2020.
The full economic impact of coronavirus will not be clear for quite a while. However, what is known is the highest numbers of deaths as a percentage of the population have been in Europe and the US. Asia has dealt with it most successfully having gained experience of how to react from previous pandemics such as SARS. The shorter the lockdown the less the damage will be and in a number of Asian countries, notably Korea and Taiwan, there has been no lockdown at all. Therefore, the GDP expectations for Asia are far better than for Europe and the US.
GDP expectations

Source: Bloomberg; Polar Capital, 31 May 2020.

The speed of recovery is perhaps the most critical factor as well as being the hardest to forecast. The key factors in our view are:
The ability to provide a fiscal boost: To date, all government firepower has been directed towards limiting the degree of damage. Developed economies have spent more and have a continued ability to do so using forms of quantitative easing which are not so readily available to emerging markets given the currency risk this would entail. However, debt to GDP is lower in emerging markets giving many countries, notably those in Asia and Eastern Europe including Russia, plenty of ammunition. If this expenditure is done wisely it could also attract capital and thus be currency supportive. If governments can focus this spending on areas such as infrastructure that can improve future productivity, then there are clear positives.
Services as a percentage of GDP: This is the first service-led recession so it will be economies with a higher percentage of services to GDP who will find the recovery tougher and these are the more advanced economies.
GDP composition

Source: The World Factbook; Polar Capital, 31 May 2020.
Getting people back to work: Tied to this is the speed with which populations go back to work. So far countries that have re-opened their economies have not seen further surges in infection, but it is still early days and fears of a second and third wave persist. Given the lack of government support, people in emerging markets will have a greater need and greater willingness to return. In addition, their lower mortality rates, allied to their younger populations, will likely reduce fear of the virus.
If, as we suspect, economic growth in emerging markets falls less than in developed markets and recovers faster, the earnings outlook and consequently dividend outlook is likely superior. Combine this with a lower initial payout ratio and lower leverage and it seems even more likely that the dividend story will be more robust in emerging markets.
The final critical factor is currencies. Here again there is room for optimism. Asian currencies have only depreciated slightly, the worst impacted being India and Indonesia. Elsewhere, the story has been less good as would be expected, with falls being particularly severe in Brazil, Mexico, Russia, Turkey and South Africa. However, as a result these currencies now look very cheap on a real effective exchange rate basis.
Ex-Asia REERs at or close to historic lows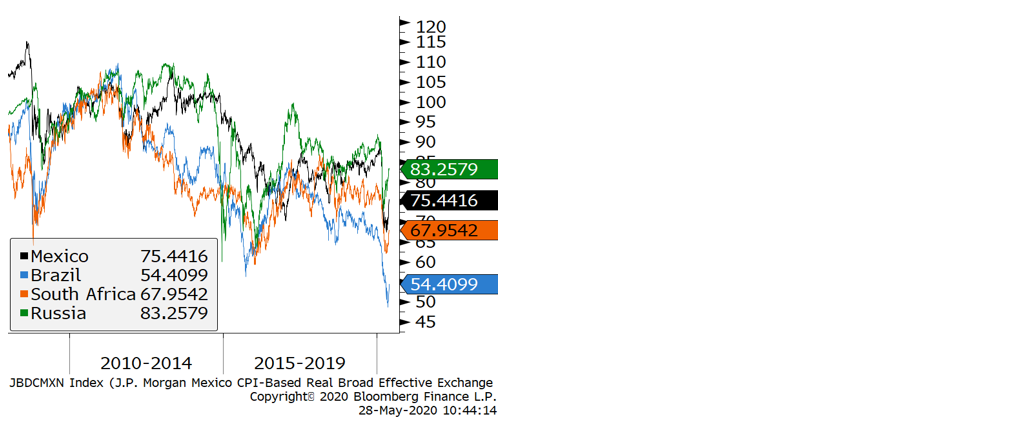 Source: Bloomberg, 28 May 2020.
According to Credit Suisse, on a purchasing power parity basis, emerging market currencies ex-China are cheaper than they have been since the aftermath of the Asian financial crisis in 1997 despite having much better aggregate current accounts. Furthermore, inflation across the board is low and thus unlikely to be a source of further depreciation, hence dividends from emerging markets should be seen as being paid in currencies that should not weaken from here and, were the dollar to weaken, should strengthen.
In our April fact sheet, we suggested the dividend on the Fund could fall up to 20% in 2020. With better information now, we would be disappointed if the fall exceeded 10% despite the fall in currencies year to date. Were the dividend to fall 10% then the yield on the USD I share class of $7.04 would be 5.3%, as at 29 May 2020.