Global Technology
|
22 Jun 2020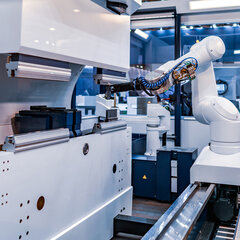 Nick Williams
Investment Analyst, Global Technology Team
The adoption of automation is not linear. While it appears logical to think of the increasing automation of economies as a steady, long-term trend, the reality is one of bursts, step changes in the levels of acceptance that, historically, have been concentrated in the wake of economic shocks and weakness. As revenues decline, companies have to do more with less, offsetting the natural deleverage that comes with relatively expensive human labour. Economic shock is the catalyst that drives a maximisation of productivity and efficiency of resources.
Research has shown that as post-downturn economic outlooks become clearer and the early signs of recovery bring returning appetite for investment, automation and technology are the first recipients of capital spend. This is particularly true in the first two years of economic recoveries, where human labour additions do not leverage the same immediate gains in productivity within the existing infrastructures.
The last decade has brought the creation of more technological tools in both automation and artificial intelligence than ever before. The combination of this innovation with decreasing costs and more 'turnkey' solutions – making implementation and operation more accessible – means that we are already seeing signs that this recovery could herald another spurt of mass technological advancement.
Index of patent counts by technology, 1980-2016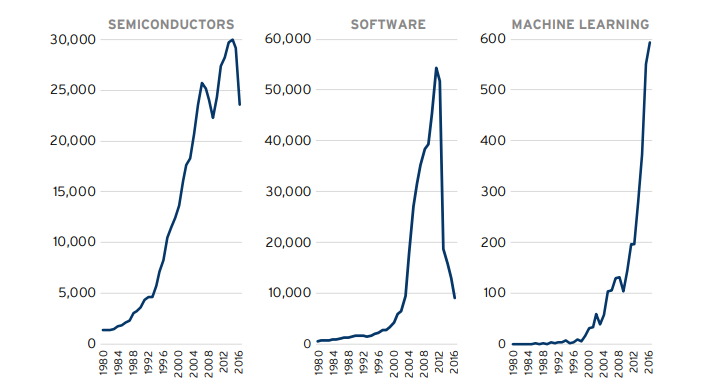 Source: Webb, Short, Bloom and Lerner (2018) "Some facts of high-tech patenting." Or diagram on page 6 "What jobs are affected by AI?"
The nature of automation adoption is changing too. We might think of automation as the replacement of blue-collar workers with robots on the factory floor rather than affecting white-collar and corporate jobs. The reality is that, while the majority of jobs at risk are still relatively lower skilled or centre around manual, labour-intensive roles in industry and commerce, we are increasingly seeing higher-wage, higher-skill corporate jobs as the next horizon for automation applications.
Recent studies suggest the single strongest predictor of job automation is the "pace determined by speed of equipment", that is to say, machines cannot be a bottleneck and must be able to accelerate the pace of manual processes. This next frontier is being enabled by the advancements made in technologies over the last decade.
Robot Replacements - Jobs at risk from pandemic in Europe are also likely to be automated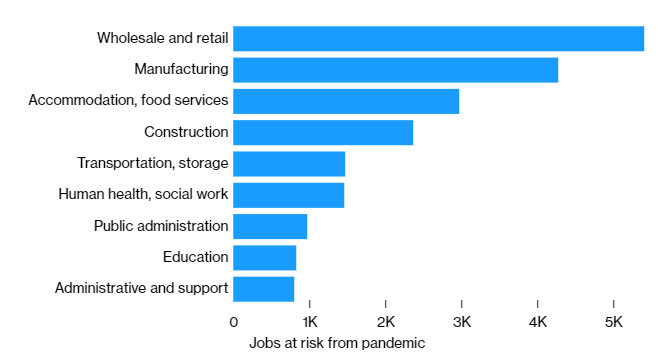 Source: McKinsey (Exhibit 4), 10 June 2020. Bloomberg, 11 June 2020. Note: Includes EU-27 countries plus U.K., but excluding Switzerland.
Real-world implications
We are seeing the impacts of accelerating demand for automation in many parts of the portfolio, both through those companies that enable this transformation and those that benefit from it. Global e-commerce usage has ballooned during the first half of the year; penetration in Brazil, for example, was estimated to only be 2% at the end of 2019, yet lockdown brought e-commerce growth rates north of 100% through that period. Here in the UK, Ocado notably saw such a surge in demand that, at peak, they had to restrict order intake and have now raised fresh funding to crystallise this growth. We see opportunity both directly through the merchants disrupting traditional bricks-and-mortar retailers and also through the second derivative beneficiaries such as the providers of the automation solutions and infrastructure.
It is no secret or surprise that these trends toward the greater automation of economies will continue to play out over many years and provide long-term, structural drivers of growth for many industries.
Of those subsectors that deliver the infrastructure for e-commerce and wider industrial processes, factory automation has also experienced strong demand with a resumption in activity in Asia. Our robotics systems and components companies have had a very strong few months as factories retool with more advanced equipment, while a growing expectation for some form of reshoring or near-shoring of supply chains has helped subsegments of the broader industrials and logistics markets. This will undoubtedly be a long-term rather than immediate shift, with capital constraints also imposed by the scope of economic recovery from COVID-19. We believe that this can be a structural tailwind over a number of years. The recent heightening of geopolitical tensions and increasing rhetoric and posturing toward nationalistic policies mean the risk to supply-chain disruption is unlikely to abate soon. While we take a highly active approach to thematic weightings, we currently have around half of the Fund exposed to these themes.
COVID-19 has also laid bare the stresses faced by healthcare systems managing thin funding or profits while delivering care. Conversations with hospitals and IT companies have highlighted the historical lack of technological adoption across healthcare broadly, and many have realised they must now turn to greater automation in a post-COVID-19 world. Telehealth has unsurprisingly boomed during lockdown with some unexpected advancements such as, for example, endocrinologists being able to remotely onboard diabetic patients onto life-changing continuous glucose-monitoring devices much faster and more effortlessly than expected. While the hospital capital budgets remain pressured in the near term, we have strong conviction in the potential for modern solutions in the healthcare system – two examples of this would be further advancements in robotic surgery and more intelligent, connected patient-monitoring systems.
It is no secret or surprise that these trends toward the greater automation of economies will continue to play out over many years and provide long-term, structural drivers of growth for many industries. What we are now seeing, however, through the disruption caused by the pandemic, is an acceleration of the consumer and corporate behavioural shifts that leads to the non-linear adoption of these technologies.