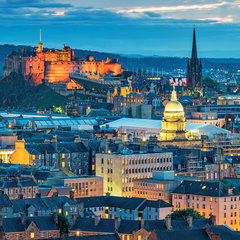 George Godber
Fund Manager, UK Value Team

Georgina Hamilton
Fund Manager, UK Value Team
Most investment decisions weigh up the potential investment gain against any potential loss. What degree of risk are they willing to take for an expected level of return? The natural inclination for investors is to reduce the risks they know about – the 'known knowns' as they are sometimes referred to. Indeed, embedded within the investment process of the Polar Capital UK Value Opportunities Fund is our attempt to eliminate balance sheet risk through our financial safety check, a proprietary measure for analysing and assessing the financial risk within a company. Weak balance sheets hugely increase the possibility of permanent capital loss and trying to eliminate these should help our returns over time. We always look down before we look up.
So, what is the risk versus the reward for someone looking to asset allocate to the UK equity market today? The opportunity is clear as we alluded to in our most recent update, as we believe the UK's valuation opportunity is extremely attractive. The UK has significantly lagged other markets and now finds itself looking extremely cheap relative to global equities.
For the past 30 years, the UK equity market has outperformed global equities. It has been an attractive place for people to invest over the long term. There are drivers for this, including good corporate governance, a flexible labour market, a focus on improving shareholder returns and a good diversity and breadth of companies.
The perception of the UK market changed rapidly following the Brexit referendum in June 2016. It has significantly underperformed and sterling has been weak ever since, multiples have contracted and the asset flow picture has been bleak. Although there was an initial improvement in sentiment after the 2019 general election, the most recent BAML survey shows we are back at 40-year lows for asset allocation to the UK market.
Have we reached the point at which this is all priced in? This is the golden moment all investors search for, where your downside risk is limited and all possible bad news has been covered. The answer from a valuation point might be 'yes', but from a sentiment point of view, the answer has to be 'not yet'.
From our conversations with domestic-focused UK companies, they are not expressing any material concern about life after Brexit.
Most asset allocators clearly want some resolution to Brexit. Why risk increasing your UK weight in a portfolio for fear of a no-deal Brexit that would push sterling lower? The Brexit challenge is a known event and if it goes against you it is tough to answer: "Why did you take the risk?". The same will surely be true for overseas companies thinking of investing in the UK. Brexit is not just an issue for investor sentiment as there have been real economic consequences – corporate capex has totally dried up while international and domestic companies have put many projects on hold until there is more certainty. The single biggest shortfall as a contributor to GDP since the referendum has been the fall of business investment.
However, from our conversations with domestic-focused UK companies, they are not expressing any material concern about life after Brexit. This is partly because over the past four years the consistent feedback from our discussions with company management about fears over Brexit has been: first, Brexit would lead to a lack of availability of labour and, second, Brexit would cause a consumer spending shock. The COVID-19 crisis has essentially swamped both these concerns. Naturally, UK businesses have now had four years to think and prepare and plan for Brexit – we cannot imagine a FTSE 350 management team lasting too long if they put out a statement next year saying they were surprised Brexit had happened and that it had affected their operations.
In Q4 2019 and the early part of 2020, we saw a glimmer of what might be possible for the UK market. Companies were beginning to report accelerating top line earnings, they were seeing increased consumer and corporate confidence after the election and the spectre of Jeremy Corbyn had been removed. COVID-19 has, of course, put a temporary stop to all that, turning business models on their head, the UK equity market has underperformed and sterling has been weak. Naturally, investors are now focused on Brexit again and whether there will be some form of agreement on both sides. With the UK government having refused another extension, this time we know for certain it is happening one way or another on 31 December 2020.
Nobody has a clear insight into the road ahead of Brexit. We might end up with no deal – then that is it; we cannot have another 'no deal' – and there is no subsequent general election to worry about. However, if we do end up with even a rudimentary deal, it should prove positive for asset flows and reduce the volatility of sterling. The removal of the uncertainty on Brexit would start to answer the question 'What is my downside?' and that should allow a focus on the valuation opportunity, which is considerable.