Global Insurance
|
24 Aug 2020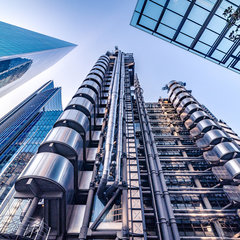 Nick Martin
Fund Manager, Global Insurance Team

Dominic Evans
Analyst, Global Insurance Team
This is a fascinating time in the non-life insurance world as COVID-19 means we are all living through a live catastrophe event. When bad things happen in the world, the insurance industry is there to help customers and their communities in difficult times by paying out on claims. COVID-19 directly as well as its impact on global economies will add further momentum to what was already a rapidly improving pricing environment. In our view, we are undoubtedly seeing the best underwriting market for at least a decade – and where it gets really interesting for us is there is a huge gap between how the market is currently viewing our sector and the company fundamentals as we see them.
Today's pandemic is different from the usual hurricanes and earthquakes that we deal with, as it is an ongoing event that increases the scope of potential outcomes. Pandemics, unlike hurricanes or earthquakes, are not limited by geography or time which makes potential losses open-ended and, in the extreme, largely uninsurable. That is why pandemics are routinely excluded in policy wordings as no insurer to speak of, and certainly no insurance regulator, wants to see companies taking on these open-ended and unquantifiable exposures. Remember, the whole principle of insurance is that the premiums of the many, pay for the unfortunate losses of the few. As pandemics potentially impact everyone, there is no diversification of the risk. This is what makes insuring pandemics so difficult and why these exclusions exist.
Pandemics are routinely excluded in policy wordings as no insurer to speak of, and certainly no insurance regulator, wants to see companies taking on these open-ended and unquantifiable exposures.Having said that, there will, of course, be significant losses from COVID-19. Obvious examples are the Olympics being postponed, Wimbledon and other sporting events being cancelled, travel insurance, mortgage insurance as unemployment goes up and so on – these are what we would call "known knowns".
The bottom line for us is that COVID-19 will likely become the largest insured loss in history, surpassing the $50bn+ from Hurricane Katrina in 2005. Our base case is a $60-70bn loss, representing around 2% of global property and casualty capital, excluding any positive claims experience from areas such as motor insurance. If you take our assumption and add it to the c$85- 90bn you would expect from natural catastrophe events, 2020 becomes a similar catastrophe-type year to 2017 which was a good year for companies in our portfolio despite those heavy catastrophes. We have never rolled the dice with Mother Nature and the Fund continues to have a prudent exposure to catastrophe (re)insurance risk.
Global natural catastrophes – insured losses ($bn)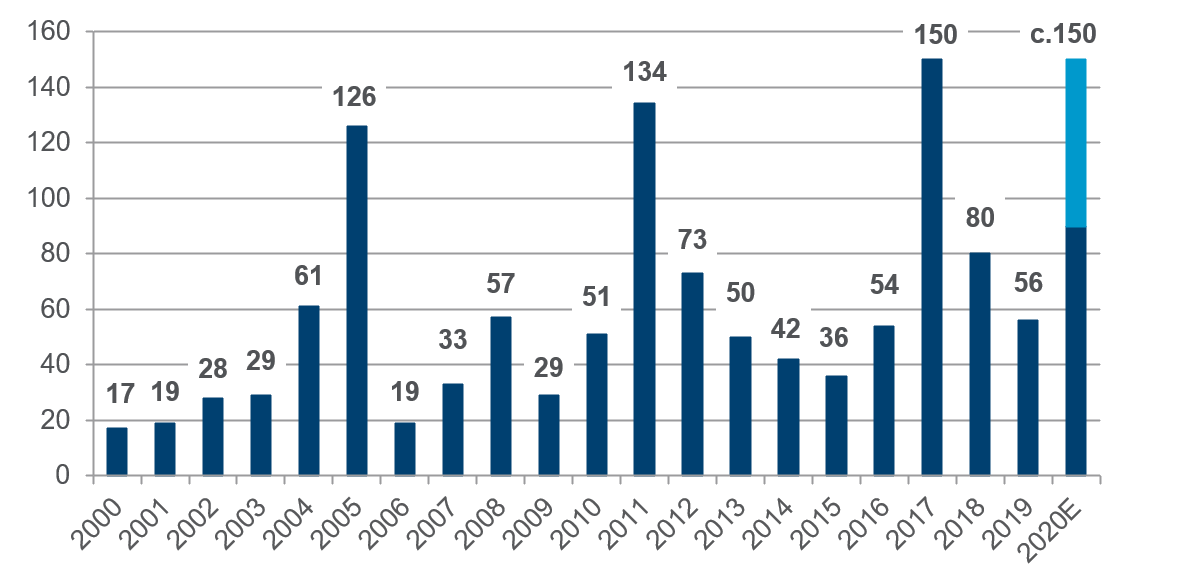 Source: Polar Capital, April 2020.
One area of insurance that will see COVID-19-related claims is commercial property policies that include business interruption coverage. There has been a lot of media comment on this, particularly in the UK, but it is important to look beyond sensationalist headlines and look at what insurance has actually been offered and paid for. The key question to ask is: 'Did the customer explicitly buy business interruption pandemic coverage within their commercial property policy?'. At the end of March/early April, whether customers bought a pandemic policy or not was mute as there was talk of lawmakers retroactively wanting to change policy wording that would make insurance companies pay out for claims irrespective of whether there was coverage or not. We said at the time that was a very, very remote possibility and that is proving to be the case. That kind of retroactive conversation has since gone quiet as it flies in the face of contract law, at least in countries like the US. We are further encouraged that in some US states which have adopted new business interruption legislation, that retroactive action talked about has been explicitly ruled out.
It is important to remember a much-overlooked point, that even for business interruption policies where affirmative coverage has been bought, losses are typically capped at a small proportion of the overall property coverage. For example, if you buy a policy for fire loss for a $10m commercial building, your business interruption may be limited to around $25,000, about the average in the US market.
There will inevitably be some legal challenges from those insured who believe they are entitled to a payout despite them not having explicitly purchased pandemic coverage. The first line of defence the insurer has is the 'belt' – has there been physical damage to the property? If not, there is no insured loss. Lawyers will try and redefine the definition of physical damage to argue that a government-imposed lockdown should mean normal business interruption policies pay out. We will have to wait and see exactly what the courts say to this but, as discussed below, insurance wording has to date held up and courts have ruled COVID-19 does not constitute a physical loss.
In some geographies there is also a second line of defence, the 'suspenders' ('braces' in the UK) where there are explicit policy exclusions when it comes to viruses and communicable diseases. They have been commonplace in countries like the US since SARS, so for almost 20 years it has been fully understood by insurance buyers and regulators so there are unlikely to be claims to speak of. However, the UK is at the other end of the spectrum where there are rarely pandemic exclusions and insurance companies typically use their own wording. It is much more grey when it comes to legal challenges, so once again we will have to see how the initial legal challenges fare. In Europe, it is somewhere between those two extremes – we have seen cases in France, for example, where companies have had to pay out on business interruption claims.
Our Fund's exposure is largely in the US, which is where we feel very comfortable; we have a little exposure in the UK and next to nothing in Europe, so from a portfolio point of view, this risk is more manageable.
The news for insurance companies from some of the early court cases around business interruption in the US so far is very good. A New York judge said in his summary language when looking at a magazine publisher case: "I feel bad for your client. I feel bad for every small business that is having difficulties during this period of time. But New York law is clear that this kind of business interruption needs some damage to the property to prohibit you from going. You get an 'A' for effort, you get a gold star for creativity, but this is just not what's covered under these insurance policies." In terms of the exclusion language, in the US the belt is proving enough and we do not need the suspenders.
There is both pain and opportunity in our industry right now, but it is unevenly distributed. Many companies were already struggling, reducing their risk appetite, and needed to get their underwriting houses in order so COVID-19 has added to problems those companies already had. However, there are plenty of others – in areas where we are trying to invest – that are quality underwriting companies run by strong, proven management teams. Many have been sitting on their hands over the past few years and, while the momentum was building pre-COVID-19, it is now accelerating virtually anywhere we care to look.
Looking at the sector today, some of the clouds around the COVID-19 losses, including business interruption, seem to be lifting and the market's pendulum is likely to swing to how we see the current underwriting market. We believe the current market opportunity only comes around two or three times in an underwriter's career, something current valuations are not reflecting.