Global Healthcare
|
20 Aug 2020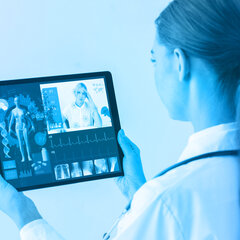 Deane Donnigan
Fund Manager, Global Healthcare Team
The Polar Capital Healthcare Discovery Fund was launched in January 2020, to focus on smaller companies in the healthcare sector. Lead manager Deane Donnigan, with more than 35 years' industry experience, selects 60-80 stocks globally. Her aim is to find the future winners in the healthcare sector by leveraging the experience and research skills of the award-winning Polar Capital Healthcare team that manages £2.5bn in assets. Here, she explains how the coronavirus pandemic has affected the healthcare sector, the make-up of the Discovery Fund, and the potential impact of the US election result.
Q: How has the healthcare industry evolved since you were the lead manager of the Framlington Healthcare Fund, from 2006-2011?
A: Its evolution has seen the investible universe grow significantly. Investors have a wealth of listed companies to choose from and we have seen the launch of a number of new healthcare funds, strategies and fund management teams. That certainly attests to the success of the sector, particularly biotechnology as we have witnessed the subsector go from one that generalists could choose to completely ignore without consequence to now being a validated source of innovation and profitable products. In turn, this has led biotech to be a larger proportion of the benchmark and therefore an investment decision you can no longer ignore.

We continue to focus on those companies bringing solutions rather than adding to the problems and complexity. While new breakthrough therapies will continue to be welcomed, consumers require and deserve a transparent marketplace where patients who would benefit most from these world-class therapies are rapidly diagnosed and treated. As such, we invest in personal care, home healthcare and hospice companies as well as telemedicine, rapid point-of-care diagnostics and remote monitoring capabilities via a number of medical technology formats.
The Fund was launched primarily to add a dedicated smaller companies fund as a complement to Polar Capital's four other healthcare portfolios.
Q: Given the Fund was launched at the start of 2020, how has coronavirus affected stock selection? And how has it influenced your view of the healthcare industry?
A: The Fund was launched primarily to add a dedicated smaller companies fund as a complement to Polar Capital's four other healthcare portfolios. We did not have a crystal ball ahead of the launch though, in hindsight, we did see the potential for the market backdrop to change and the investment opportunities that would bring. Having said that, we certainly did not see a global pandemic as the driver of this change and we all would have happily settled for something more pedestrian.
Throughout the crisis, we have stayed true to our process, focusing on innovative companies with great technologies, assets and/or product pipelines, with a strong management team at the helm, the latter often proving more important for smaller companies than most might appreciate. The crisis has laid bare for all to see that our healthcare infrastructure and marketplaces must be much more flexible and transparent than they currently are. It is too complex, expensive and patient-unfriendly. This had largely been acknowledged pre-pandemic and while some minor disruptions had begun, the global pandemic added fuel to the fire. We will not be going back to business as usual and with that comes the opportunity for investors to be part of a much-needed solution and therefore exciting change.
Q: How does the Healthcare Discovery Fund differ from the other funds in the Polar Capital Healthcare team's range?
A: All our healthcare portfolios, with the exception of the Blue Chip Fund, invest in smaller companies (<$5bn market cap) though in a limited size and shape depending on the fund. When market conditions support it, the Healthcare Discovery Fund should be predominantly invested down the market-cap spectrum. The Fund's investible universe ranges from $50m up to the largest member of the benchmark, which is c$11bn.
Q: How is the Fund currently positioned?
A: The Fund currently has a c32% exposure to biotechnology, which represents a decent underweight versus the benchmark. Around 23% is in a variety of healthcare services, 22% in healthcare devices, 12% in pharmaceuticals and 9% in life sciences.*
By geography, two thirds of the Fund is invested in US companies, broadly in line with the MSCI Global Healthcare Smaller Companies Index. This is testament to the dominance of successful US companies and a marketplace that has been more profitable than elsewhere. The balance of investments in descending order are in western Europe, Asia Pacific and eastern Europe.
Q: While you are lead manager of the Discovery Fund, how do you work with the other four healthcare fund managers at Polar Capital?
A: We work very closely together, and our collective processes are collegiate and iterative. We all strive to learn as much as possible about our sector, themes and related investment ideas every day and in turn we aim to translate that into alpha for our investors. We have worked together for a number of years and the team are all healthcare industry specialists; it is very helpful to share and discuss ideas with like-minded colleagues.

Q: How might the outcome of the US presidential election affect healthcare stocks and does that affect your positioning of the Fund?
A: We are definitely keeping an eye on US politics. Typically, this would be the beginning of a more difficult time for the healthcare sector and, prior to the pandemic, US drug pricing was very much at the top of the political agenda. The current administration has acted via an Executive Order to reduce drug prices though without Congress on board it is mostly political positioning for the upcoming campaign as opposed to meaningful legislation.

Clearly, there are much greater challenges at hand during this election so we see any meaningful change for the US healthcare system coming in 2021 onwards as both candidates realise it is an important longer-term issue for the US economy. As long as neither party is handed a mandate, there should be ongoing improvements to the existing US healthcare system though obviously the related approaches will differ.
*Source: Polar Capital, 31 July 2020