Global Convertible
|
27 Aug 2020

David Keetley
Fund Manager, Global Convertible Team

Stephen McCormick
Fund Manager, Global Convertible Team
Convertible bonds have enjoyed a resurgence of investor interest during 2020 amid strong performance year-to-date. The Polar Capital Convertible team reflects on this performance and, importantly, explain why they believe the convertible asset class can continue to outperform into 2021.
Convertible bond performance in 2020
As we discussed in 'Are Convertibles doing their job?', convertible bonds typically outperform equities during times of elevated market volatility thanks to their unique attributes. This has been put to an extreme test in recent months as the market has navigated one of the most profound bouts of volatility ever experienced. Indeed, during mid-March the VIX Index – a gauge of the expected market volatility of the S&P 500 Index dating back over three decades – logged a record high of 82.7%, comfortably surpassing both the dot.com and global financial crisis-era spikes.
As the chart below shows, and as the theory suggests, convertibles have indeed outperformed equities so far in 2020. Specifically, at the time of writing, global convertibles have outperformed their equity counterpart, the MSCI World Equity Index, by almost 9% points year-to-date. Moreover, the chart also shows that convertibles have outperformed both investment grade and high yield bonds, despite the latter two benefitting from unprecedented monetary support from the US Federal Reserve since March and April, respectively.
Furthermore, it is noteworthy that, aside from investment grade bonds which have received the majority of central bank support through this period, convertibles offered the lowest drawdown of any asset class during March's precipitous decline. Consequently, convertible investors have been able to enjoy a significant reduction in volatility of their returns through this challenging period.
Asset Class Performance (year-to-date)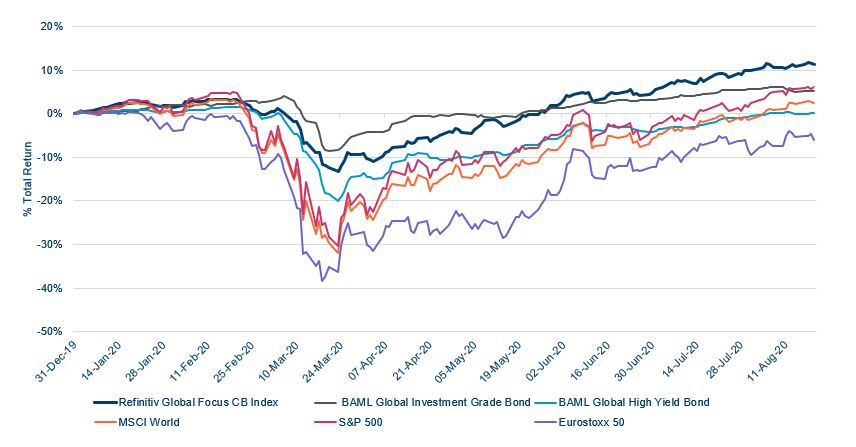 Source: Polar Capital, Bloomberg & BAML, 21 August 2020. The indices above all show year-to-date total return performance in USD. Past performance is not a guide to or indicative of future results. It should not be assumed that recommendations made in the future will be profitable or will equal the performance of securities in this document. A list of all recommendations made within the immediately preceding 12 months is available upon request.   
These year-to-date performance characteristics are not an outlier but rather a microcosm of how convertibles tend to perform relative to other asset classes over longer periods. The chart below shows that, between 1973 and 2020, convertibles not only outperformed investment grade and high yield bonds but also generated a similar return to equities.
US Asset Class Performance (Jan 1973 – Mar 2020)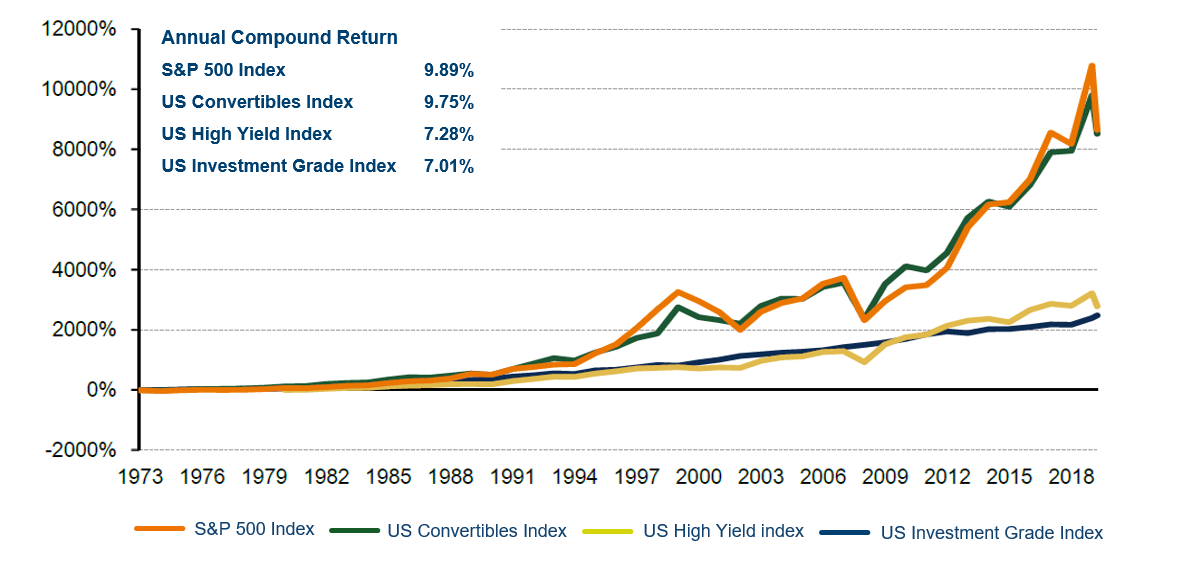 Source: BofA Global Research, Polar Capital, 31 March 2020.
Can convertible outperformance continue into 2021?
Looking forward, we believe the convertible asset class is set to continue to benefit from ongoing tailwinds which will enable strong, risk-adjusted returns in the months and quarters ahead. Our thinking is that (1) market volatility is set to remain elevated, and (2) convertibles have benefitted from a historic resurgence of new issuance which has broadened the opportunity set markedly:
Market volatility is set to remain elevated. With investors contending with numerous health, economic and geopolitical-related crosscurrents – from the evolution of the COVID-19 pandemic and governments and central banks' ongoing response; rising trade and technology tensions between the US and China; the impending US presidential election; to the implications of Brexit on Europe and the UK, among many others – we anticipate market volatility is set to remain elevated in the months ahead which we believe will continue to provide a very supportive backdrop to convertibles' risk-adjusted performance.
Convertibles have benefitted from a historic resurgence of new issuance. 2020 has seen the convertible market prove its importance as both a vital capital-raising lifeline for those companies severely impacted by the pandemic as well as a place to raise opportunistic or expansion-related financing for those more able to benefit from the current situation. There are a number of reasons for this resurgence in issuance, including convertibles' typically lower coupon requirement in exchange for the possibility of participating in the upside of the underlying equity, therefore enabling greater cash flow preservation for the issuer. It is also due to the convertible market's ability to enable the prospective corporate issuer to raise capital in a relatively shorter timeframe than more traditional capital-raising avenues, such as banks or high yield markets. Furthermore, this resurgence is due to companies seeking to capitalise on the market volatility and thereby issue convertibles on more attractive terms (higher volatility = more valuable convertibles). Finally, as equity and credit markets have recovered, companies have issued convertibles today fearing the terms the market will offer tomorrow may be less attractive.
As a result, the convertibles market has seen a significant level of capital-raising activity in 2020 – at the end of July, the global convertible market had raised over $100bn of new paper, the first time this has happened since 2007 (source: BAML). Moreover, the bankers we spoke to when preparing this piece believe this strong issuance trend will continue in Q4 and into 2021. Should this come to fruition, at today's annualised issuance rate, 2020 could see $175bn of issuance which we estimate would result in an almost 30% year-on-year increase in the size of the overall convertible universe, representing one of the largest annual increases on record.
This level of growth in the convertible market is important as it not only presents near-term trading opportunities for the convertible investor but, more importantly, it substantially expands the investment opportunities into 2021 and, given the typical life of a convertible, does so for the next five years.
In summary, we strongly believe that the market forces at play and their timescale will continue to be a tailwind for some time yet leading to the convertible asset class continuing to outperform in the months and quarters ahead. These forces have led to a historic surge in convertible issuance this year, resulting in one of the largest annual increase in the size of the asset class on record. This not only presents near-term trading opportunities, but also substantially expands the investment opportunities into 2021 and beyond.
When researching this article, we spoke to several Equity Capital Market bankers, the people who issue convertibles on behalf of companies. They believe these forces remain in play and expect convertible issuance to stay strong into 2021. Consequently, we encourage investors not to overlook the potential outperformance opportunities created for the remainder of this year and into 2021, but also recognise the sea change in the asset class they represent.