Emerging Markets & Asia
|
22 Oct 2020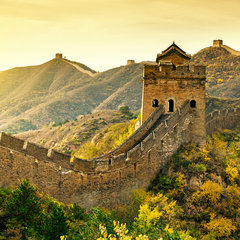 Jerry Wu
Fund Manager, Emerging Markets & Asia Team
In April, we discussed how supply in China had largely recovered from its coronavirus hit, with up to 80-90% of industrial production capacity and 70-80% of service supply restored, but demand recovery was slow and uneven. Since then, demand recovery has continued steadily. Even the hardest-hit hospitality industry is witnessing strong recovery, as bars, nightclubs and beach venues are filling up.
Life in China is starting to look normal again and in capital markets Chinese equities substantially outperformed in the first nine months of 2020 – but how sustainable is this outperformance?
Equity indices performance: Jan-Sept 2020 ($)
Source: Bloomberg. Past performance is not a guide to or indicative of future results. 
To answer the question, we need to understand why Chinese equities have outperformed. It is easy to claim it is simply because of China's draconian but effective measures to manage COVID-19 and the effect of them being first in and first out. This is certainly true, but far from the full explanation, as countries like Korea and Japan have also been very successful in getting COVID-19 under control quickly. There are also three important structural reasons:
China's massive digital economy. Blessed by the advantages of backwardness and unshackled by entrenched offline industry incumbents, in many aspects it is fair to claim that the Chinese economy digitised before it industrialised.

Its phenomenal e-commerce growth happened before we had the chance to see the emergence of the Chinese equivalent of Tesco, Walmart and Costco. Alibaba and JD.com, two dominant e-commerce platforms, grew without much resistance from offline competitors and consumers. Similarly, digital payment and mobile wallets appeared before most Chinese consumers had the chance to develop the habit of using credit cards. Now Alipay (Alibaba) and Tenpay (Tencent) are ubiquitous and dominant.

COVID-19 not only accelerated the secular digitisation trend that was already well underway but also tested the resilience of these digital business models. Economies with a robust digital infrastructure, a high proportion of tech-savvy consumers and a large group of innovative technology companies navigated and adapted to the new world quickly and successfully. With its excellent internet infrastructure, 830 million active internet users, 600 million mobile payment users and a sophisticated and burgeoning digital and technology industry, China's massive digital economy already accounts for more than one-third of its GDP. This is a critical reason for its resilience and potential.


Rapidly growing middle-class consumers. The numbers of consumers spending more than $20 a day is going to increase from 200 million to more than 500 million during the current decade. This unleashing of enormous potential spending power is a strong structural tailwind that underpins the Chinese economy's fast recovery.

Against plenty of scepticism, China's economy has successfully transitioned from an investment and export-led one to a more balanced and resilient one driven by consumption and innovation. Household disposable income continues to grow, thanks to rising labour productivity and better-paid jobs created by the expanding digital economy and high value manufacturing.

Supported by a strong willingness and ability to spend, China's consumer demand recovered quickly, even in the hardest-hit hospitality industry. The hotel occupancy ratio returned to 70% in August, the same as pre-COVID-19 January; domestic air travel is around 90% of pre-COVID-19 levels; cinemas reopened in July and box office receipts during the first week of October were 86% of same period last year.

In a world full of discussions of the onshoring of supply chains, we are noticing an interesting new trend of onshoring of Chinese consumer demand.  Glitzy Chinese consumers account for roughly 40% of global luxury goods demand. Before COVID-19, about two-thirds of those purchases were done by globetrotting Chinese tourists in Europe and the US. With materially reduced international travel, Chinese consumers have redirected spending onshore. Governments have also introduced measures and reforms to expand the scope and scale of domestic duty-free shopping to encourage the onshoring of demand. Dubbed 'the Hawaii of the East', sales in Hainan's duty-free store rose 240% y/y in July. Long queues are seen outside Louis Vuitton, Chanel and Christian Dior stores and rich patrons on average need to wait for more than an hour to get in.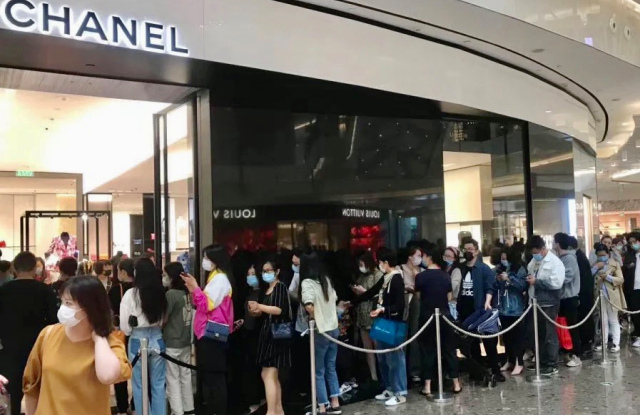 Source: wwd.com.


Orthodox monetary and fiscal policy; better stimulus options. In a world where QE has become regular policy, ZIRP (zero interest-rate policy) is the norm, and modern monetary theory and universal basic income might well become reality, China's recovery is even more remarkable given it has largely been achieved without traditional QE and large fiscal stimulus. China's policymakers' commitment to monetary and fiscal orthodoxy also means they have more options at their disposal in the event the crisis worsens.

Such an orthodox policy framework is clearly also currency positive. The renminbi has appreciated despite the escalation of US/Sino relations. Combine this with China's 10-year government bond yielding 3.1%, it is not surprising to see global investors continue to pour money into the Chinese bond market.
Foreign holdings of Chinese bonds through China Central Depositary & Clearing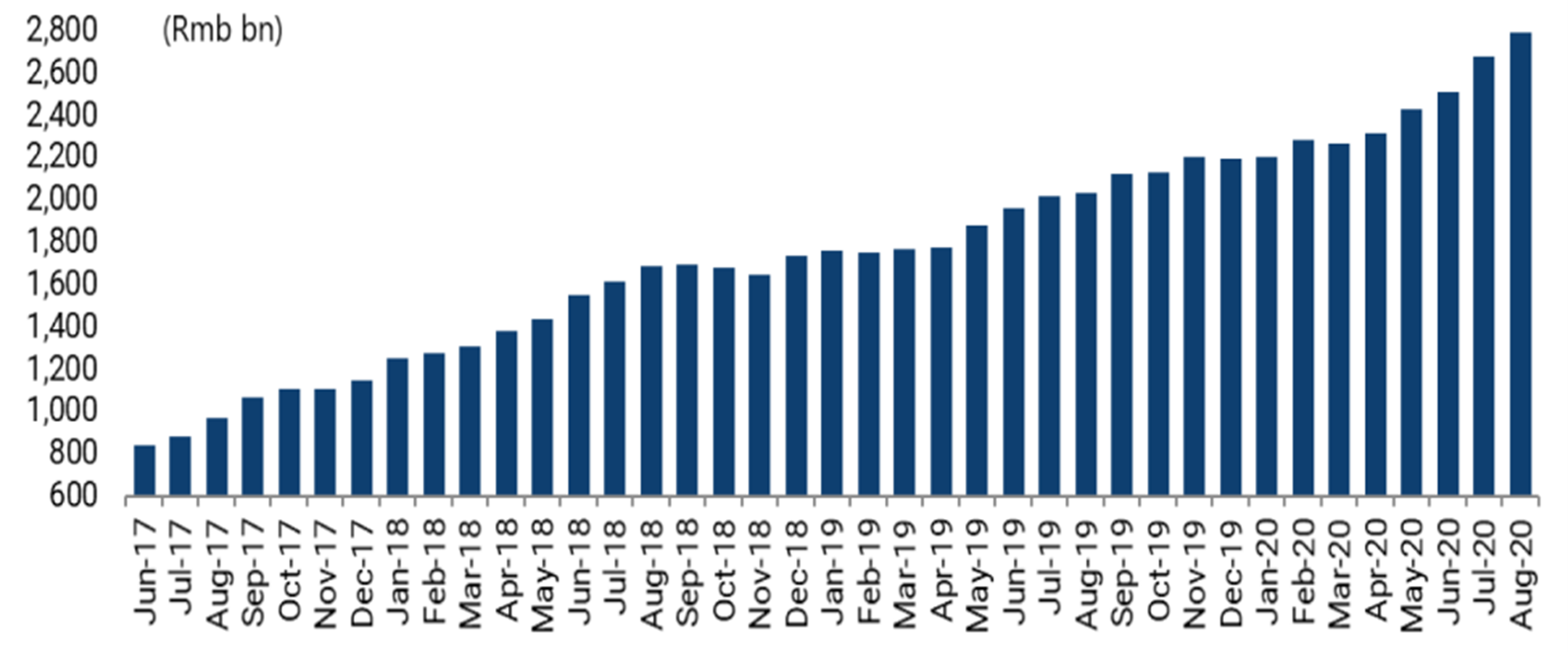 Source: China Central Depositary & Clearing.
Chinese equities' outperformance is buttressed by two powerful structural forces of a massive and burgeoning digital economy and the rise of its middle-class consumers, reinforced by its relatively orthodox policy framework. In our opinion, these will all continue to drive China's sustainable outperformance in the future.
The Polar Capital China Stars Funds primary focus is on investment opportunities in four megatrends in China: digital leaders, middle-class consumers, greying China and the rise of the machines. The digital leaders and middle-class consumers that have been instrumental in China's resilience and outperformance in 2020 account for 38% and 29% of the Fund's NAV, respectively. They have also been the most important contributors to our 7.6% alpha this year.  
An innovative technology industry and a dynamic consumer market are the two driving forces of China's growth. However, changes are so fast-paced that staying close and generating new ideas are critical in keeping our edge. One of the side-effects of COVID-19 for fundamental research investors is that most of them are stuck in London, Hong Kong or New York, unable to visit companies and kick the tyres, which can lead to less thorough due diligence and fewer new ideas. Having a local presence in Shanghai with Andy Chen, our Head of Research, on the ground means our process and idea flows have not been impacted at all. We are now more than ever dedicating our time and efforts to finding new and exciting opportunities.
The View from the Ground
Since June, as the situation began to normalise in China:
| | | |
| --- | --- | --- |
| 8 | 10 | 25 |
| Trips made in China by Andy Chen | Number of cities he has visited | Companies he has met on-site |