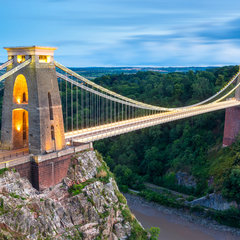 George Godber
Fund Manager, UK Value Team

Georgina Hamilton
Fund Manager, UK Value Team
Following the breakthroughs by a number of coronavirus vaccine trials, we believe we are seeing the start of a market rotation, heralded by some of the recently overlooked sectors now performing better. This move is not just confined to equities as many assets that do well under an economic recovery have started to see improvements in their performance. Only time will tell if this shift is sustainable, though the vaccine news has given us greater clarity on global positioning and investor time horizons. The vaccine news has also given us hope that we will not be stuck in a reality of perpetual rolling lockdowns with all the economic pain and heartache they cause. The news has allowed investors to focus on the fact that a large chunk of the market might face a better 2021 and 2022 than previously thought.
The graphs below compare the performance of the bottom quartile of shares by P/E divided by the top quartile for the period around the global financial crisis with and the period around the COVID-19 crisis. More expensive shares have significantly outperformed cheaper shares this year, a trend we also saw at the start of the financial crisis, followed by a sharp reversal.
Performance of bottom v top quartile P/Es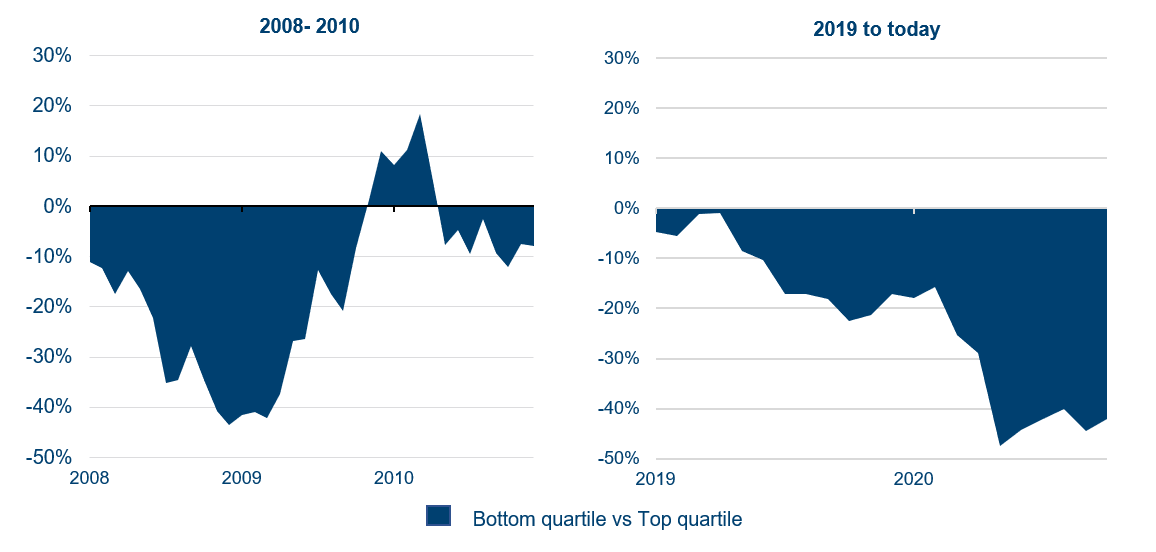 Source: Polar Capital team, Q3 2020.
As a crisis unfolds and is at its worst, this behaviour is logical. When people do not trust earnings, they completely ignore P/Es as safety becomes paramount. If we look at the time of the global financial crisis, this narrative can change – as economic activity began to improve in 2009, helped by a huge policy response, the market began to focus on the world healing. Our assertion is if stability can return to the profit outlook for greater parts of the market, this will ensure greater trust in earnings (the 'E') and P/Es, once again, become a useful guide.
A number of other factors have helped drive the outperformance of expensive shares, but if these are not repeatable there will be implications for those sectors that have benefitted so far. While lockdowns caused the collapse of economic activity and interest rates have been cut to 0%, certain businesses have looked extremely attractive in the short term because their profits were stable or even growing. Growth in the stock market was in very short supply and, as per basic economics, when the demand for something exceeds supply, its price goes up. In this case, valuation became less important – discounted cashflows can get quite 'fruity' if you apply 0% discount rates.
If vaccines and a whole host of other developments, including testing regimes and other therapeutic treatments, allow moves back to normality then the whole economy will start to operate more normally. Growth will become less scare – or at least available – in many sectors. Investors can afford to look further into the future. The specific vaccine news from Pfizer and Moderna in and of itself did not change the reality we all face today, but it did show the market there might be a different future ahead.
The [vaccine] news has allowed investors to focus on the fact that a large chunk of the market might face a better 2021 and 2022 than previously thought.If economic momentum picks up and growth becomes less scarce, it also presents a different dilemma to investors. Some of the companies that have done incredibly well in the stock market will be facing very tough comparative periods in 2021. It may well be that some stocks will find themselves on peak multiples with peak profits – never a good combination. Conversely, some of those businesses that are highly out of favour right now and on very low multiples are likely facing a better couple of years ahead and profit expectations are currently underestimated; trough multiples on trough profits – the best combination.
Despite an improvement in economic activity and a marked improvement in operating performance for a large number of our holdings, until recently we were not seeing share prices improve or ratings expand. We felt this should have happened as the earnings performance looked dramatically better than it had in Q2 2020. One of the things lacking, however, was any reason for investors to want less exposure to the expensive parts of the market. There are two sides to the chart above – cheaper shares are rerating but, crucially, more expensive shares can also derate.
We cannot argue we have COVID-19 beaten. It is still rampaging in many countries and the UK is in a second lockdown. We know very little about the Pfizer or Moderna vaccines other than the initial data look promising. There are other vaccines on the way, multiple other treatments being developed and rapid tests will likely become widely available. Markets, in general, tend to look forward not back so if next summer friends and family are catching up together over a lunch or a coffee out and not over Zoom1, then investors will need a little more value and less growth.
1At the time of writing, Zoom is on 165x forward earnings.