Global Convertible
|
09 Dec 2020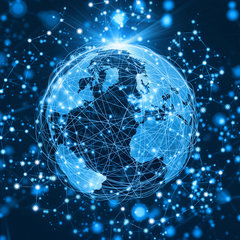 David Keetley
Fund Manager, Global Convertible Team

Stephen McCormick
Fund Manager, Global Convertible Team
We have previously described the convertible bond asset class as benefitting from a perfect storm of positive tailwinds in 2020 as all major drivers of the asset class were supportive. As we move into 2021, we believe the strong tailwinds can continue to be supportive of convertible bonds.
Convertibles undoubtedly had an exceptional year in 2020 and it would be overly presumptive for us to expect another year of historic performance. Nonetheless, looking ahead we remain very constructive about the potential for the asset class.
Asset Class Performance - Year to Date
Source: Polar Capital, Bloomberg & BAML, 30 November 2020. All indices in the chart show year-to-date total return performance in USD. 
In 2020, convertibles outperformed every major asset class, as shown in the chart above, and are on track for their best performance in over a decade. We believe this outperformance has been driven by a confluence of five factors, some of them permanent and all of which we believe remain in place for 2021. These factors are:
Asymmetry: Being a fixed income instrument, convertibles have inherent loss-avoidance characteristics, though with less duration than most other corporate bond markets. This feature enabled convertibles to protect value so effectively during the COVID-19 market ructions of the spring. With macro volatility and market downside risks remaining elevated, we anticipate that loss avoidance will remain a key driver of convertibles' performance at points in 2021.


Volatility: Convertibles are the only major asset class to have a positive correlation to volatility so have been a direct beneficiary of the increased macro turbulence. With economic performance being buffeted by the crosscurrents of COVID-19 disruptions, vaccines spurring normalisation, fiscal and monetary stimulus debates, and the potential for late-cycle behaviour, we believe that overall volatility will remain elevated in 2021.


Diversity and size of investor demand: Low interest rates, high equity valuations and rising volatility make convertibles an attractive option for investors seeking improvements in their risk/reward characteristics regardless of their specific investor objectives. This drove supportive investor inflows during 2020 and, as these factors have not changed, we believe investor appetite will remain similarly strong and diverse in 2021.


Robust issuance/size of the opportunity set: Convertible primary markets had a record year in 2020, resulting in the growth of the asset class from $333bn in December 2019 to $478bn as of 30 November. This is the largest level of issuance since 2007 and is on track to be the second highest ever, and consequently means the opportunity set is now as large as it has been in years. The drivers of this issuance (low interest rates, supportive equity valuations, elevated volatility, large amount of high yield maturities) all remain in place, meaning we expect even further growth in the asset class and investment opportunity set in 2021.


Diversity of issuance/breadth of the opportunity set: As shown in the chart below, and contrary to their reputation as being heavy in technology, convertibles are a very well diversified asset class. Indeed, convertibles' weightings to the IT, healthcare, financials and industrials sectors are essentially the same as those for the S&P 500. Moreover, this diversity increased in 2020, with issuance from cyclical sectors particularly noteworthy, resulting in convertibles having a considerably larger opportunity set in consumer discretionary than the market as a whole (convertibles 18% weight versus 12% for the S&P 500). As a result, convertible investors were able to benefit from the strong performance of growth in Q1 2020 and then a recovery in cyclical sectors in later quarters. Moreover, due to inevitable changes in market leadership next year, this diversity within the asset class should provide convertibles with the opportunity to perform well in 2021, regardless of the macro backdrop.
Global Convertible Market Composition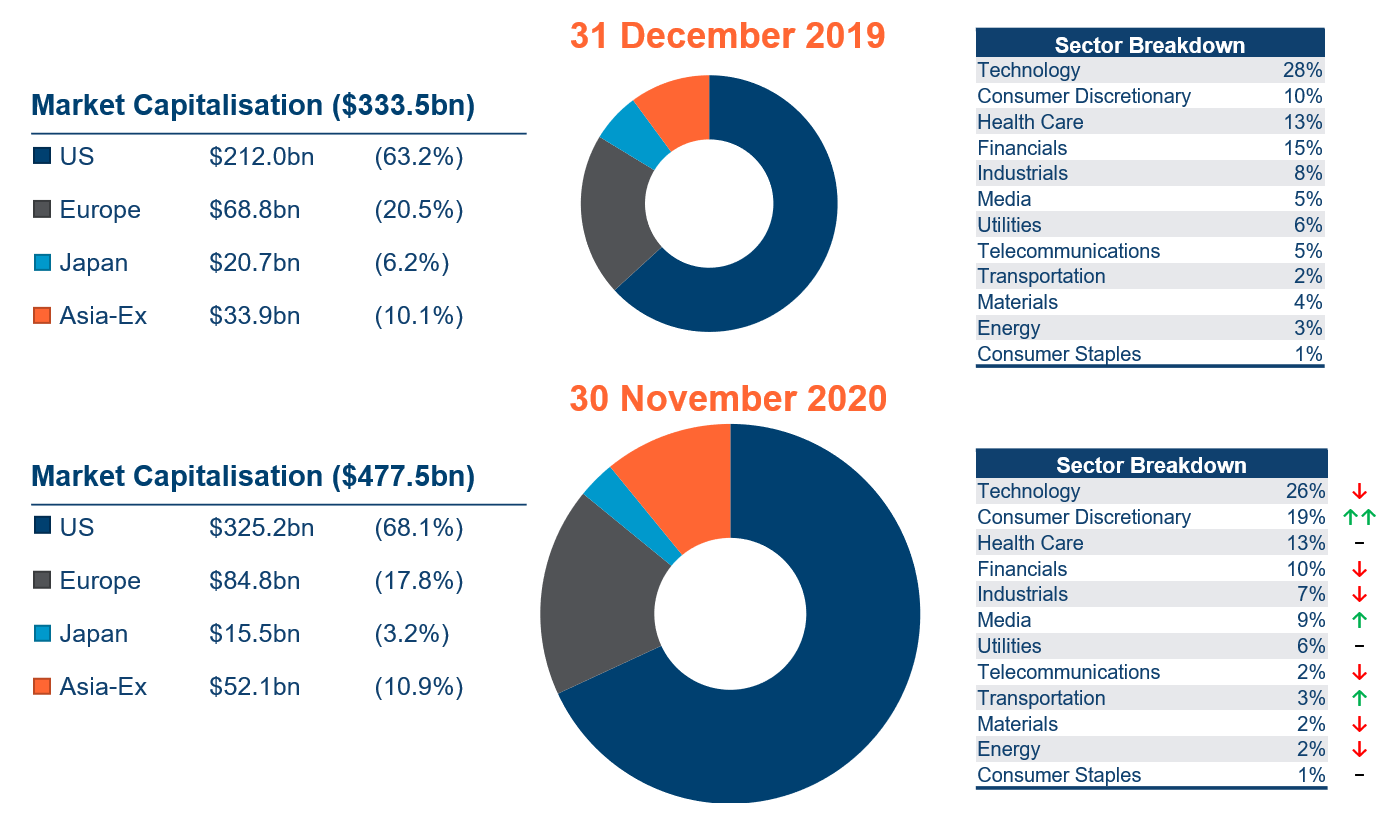 Source: BofA Merrill Lynch Global Research, 31 December 2019 & 30 November 2020. Totals may not sum due to rounding. Reprinted by permission. Copyright © 2020 Bank of America Corporation ("BAC"). The use of the above in no way implies that BAC or any of its affiliates endorses the views or interpretation or the use of such information or acts as any endorsement of the use of such information. The information is provided "as is" and none of BAC or any of its affiliates warrants the accuracy or completeness of the information.
In summary, we believe convertibles will continue to benefit from the same five factors in 2021. We believe these five ongoing tailwinds will be supportive of valuations, demand, quality and diversity of issuance which resulted in 2020 being a historic year for the asset class. In short, we expect the same tailwinds in 2021 and consequently we remain very excited about the potential for the asset class in the year to come.