Emerging Markets Income
|
05 Jan 2021


William Calvert
Lead Fund Manager, Emerging Markets Income Team
Historically, emerging markets have performed well when the global economy is in an upcycle and the dollar is weak. We believe a global economic recovery is near certain given the low base in 2020 and the successful development of a number of vaccines for COVID-19, while the overvalued dollar should weaken both on the back of rising fiscal and current account deficits as well as a reversal of the huge overexposure to the country that has developed over the course of the recent growth boom.
Emerging market equities are not particularly cheap by historical standards, but they remain at a wide discount to developed markets although, collectively, they have dealt with the pandemic far more successfully. Valuations collectively are not especially cheap but, as with other global markets, this hides a huge disparity in valuation between growth stocks and the rest. Typically, in a cyclical upturn, value (of which high yield stocks are a sub-component) has outperformed and given the valuation discrepancy there is even more reason to believe that will be the case in this cycle. High yielding stocks will have the additional driver of the return of dividends from those financials that were prohibited from paying out in 2020 thus amplifying returns.
Emerging markets: growth v value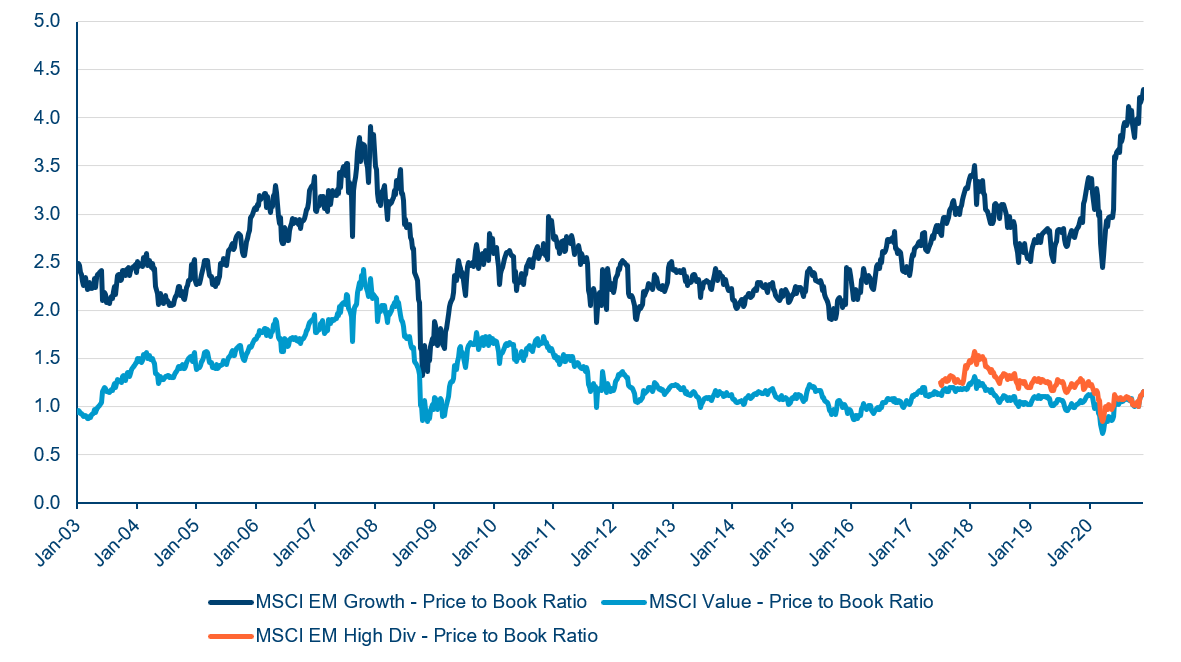 Source: Bloomberg; December 2020.