Emerging Markets & Asia
|
02 Feb 2021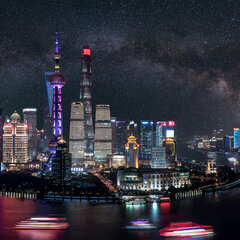 Jerry Wu
Fund Manager, Emerging Markets & Asia Team
After the Year of the Rat, 12 February will usher in the Year of the Ox. In Chinese culture, oxen are usually patient, fair-minded and trustworthy. After a year of unprecedented turbulence, the dependable and industrious oxen are precisely what we need.
In some ways, Chinese equity is like marmite or liquorice, you either love it or you hate it. This is great news for shrewd investors because controversy usually creates opportunity. Often, we embrace controversies in our bottom-up stock-picking. Over the past few years, despite the noisy Sino-US trade war and rising strategic competition between the two largest economies, we have become more confident of a potential long-term bull market in Chinese equities. Instead of repeating the hundreds of 2021 outlook articles you are likely to have read since December last year, we want to focus on sharing several observations that make us so optimistic.
What makes us more assured is much less about the high GDP growth and the excitement or fear of the ostensibly inevitable rise of China often discussed by macro pundits and policy wonks, but more about the increasing sophistication, vibrancy and dynamism that we observe and experience first-hand in our daily interactions with the entrepreneurs, consumers, investors and, most important of all, citizens. It is from this bottom-up perspective that we believe China is one of the most exciting markets for global investors.
World-class entrepreneurs creating world-beating companies
In Prof. Hendrik Bessembinder's fascinating study1 of total wealth creation in US stock markets from 1926 to 2016, he analysed all 25,332 companies with common stocks and found that 1,100 companies – less than 5% – contributed the entire $32trn net wealth creation, with the top 100 companies – less than 0.5% – creating more than 50% of this enormous new wealth.
As the study shows, the vast majority of wealth is created by a very small and selective group of the world's greatest companies and they are usually the creation of the most extraordinary entrepreneurs: John D Rockefeller and Standard Oil and its successor ExxonMobil; Steve Jobs and Apple; Bill Gates and Microsoft.
In China, we have already seen the remarkable rise of Pony Ma's Tencent and Jack Ma's Alibaba. However, they are only the prelude. A new generation of more sophisticated and ambitious entrepreneurs with a global outlook are emerging:
Wang Xing, the 41-year-old alumnus of the elite Tsinghua University and serial entrepreneur, founded and led Meituan to become the dominant e-commerce platform in consumer services.
Zhang Yiming, the 37-year-old software engineer and alumnus of Microsoft, founded Bytedance, which is the owner of Tik Tok among many other great assets and one of the most valuable internet and big data companies in the world.
Chen Rui, the 42-year-old anime enthusiast, is leading the transformation of Bilibili as the dominant online community for hundreds of millions of Gen-Z users to express their creativity and individuality through video.
Su Hua, the 39-year-old alumnus of Tsinghua and Google and a firm believer that technology can bring happiness to people, leads Kwai's effort to create a short video platform for everyone to create and share their content and joy.
The titans of tomorrow
Note: (LtoR) Wang Xing, Zhang Yiming, Chen Rui and Su Hua. It should not be assumed that recommendations made in the future will be profitable or will equal the performance of securities in this document. A list of all recommendations made since inception of the Fund will be available upon request.
This new generation of ambitious and savvy entrepreneurs is also blessed by technology disruptions. Nowhere is this more evident than in the auto industry as the EV revolution creates a perfect opening for newcomers.
China is the largest market for global automakers, but Chinese auto OEMs (original equipment manufacturers), despite their decades of effort, have largely failed to establish themselves as aspirational global brands. The EV revolution is going to change that. Tesla is doing very well in China, but new Chinese EV start-ups like Nio, Xpeng and Li are starting to challenge Tesla's global dominance and gaining strong international traction. Changes are also happening swiftly in traditional OEMs. Chinese peers like Geely, less encumbered than Volkswagen and Toyota, are bolder and quicker in their transition to EVs. Technology transformation also creates new opportunities in the supply chain, with CATL and BYD two of the top five global leaders in EV batteries and we expect them to continue to excel in technology and cost leadership. It is not difficult to envision a future of the global auto industry with world-class Chinese companies across the supply chain.
Global short-term EV share of new passenger vehicle sales by region
Source: BNEF. Note: Europe includes EU, UK and EFTA.
This new breed of Chinese entrepreneur is already transforming the Middle Kingdom's business landscape. In turn, they will make waves on the global stage with their exceptional businesses, creating enormous amount of new wealth for themselves and their patient and prescient shareholders along the way.
Maturing capital market and rising governance standards
One of the often-raised concerns about China is corporate governance, and rightly so. The median Chinese company has poorer corporate governance than the median developed market company, but the reason for this has largely being ignored. Capital markets in China under Communist rule are only 30 years old. Company management simply did not know the best practice, though from our experience over the past 10 years of interacting with hundreds of companies, it has improved significantly and the companies are still learning, evolving and improving. If you subscribe to the philosophy that investment returns come from major delta changes, then the corporate governance delta for Chinese companies will continue to be very positive and potentially drive substantial returns.
As discussed earlier, we do not invest in the median Chinese company or any average companies. We want to invest in great businesses run by extraordinary entrepreneurs. This is true in corporate governance too. We apply a high Anglo-Saxon governance standard to all our portfolio companies. We tend to invest in owner-operated businesses with strong alignment with minority shareholders. We allocate much of our research effort to understanding the controlling owners, their character, history, motivation and attitude towards minority shareholders. If we are not comfortable with the governance structure and cannot trust the people, we do not invest. As a result, we are confident that the governance of our portfolio is as good as most global portfolios.
Emergence of a giant middle class and a vibrant civil society
Ten years ago, stand-up comedy in China meant an amateurish open-mic gig in a dingy venue in Shanghai or Beijing. Now, there are more than 100 comedy clubs across the country. One of the hottest television shows over the past few years is one called Rock & Roast where aspiring stand-up comedians perform 10-minute routines and compete for votes. Satire, sarcasm and self-deprecating humour is all the rage in China, even bundled together with popular votes. 
Contrary to the common perception that civil society barely exists in China, we are seeing evidence it is thriving. In the latest season of Rock & Roast, the women ruled. Poking fun at traditional gender roles and sexism generated the most laughter, controversy and debate. These jokes can only get laughs for one reason – because they resonate. They resonate with the urban middle class professional women that want their own voice and express their uniqueness.
There are varying estimates of the size of China's middle class. If we use the most stringent criteria of spending $20-50 dollars a day, that is a size of a little over 200 million which would already put China as the largest middle-class economy. In the current decade, its size will grow to more than 500 million. For companies that can meet the increasingly varied and refined needs of China's huge number of middle-class consumers as they start to eat healthier food and care about the sustainability footprint of products, as they keenly express their individuality through digital platforms at their fingertips and choosing brands that resonate with their own identities, as they demand a cleaner environment and fairer society for their children to grow up in, enormous number of opportunities will arise.
China's true middle class however is still a minority, accounting for about 17% of the total population. This a key reason why we often get conflicting and confusing reports on China. As the number grows to more than 500 million by the end of this decade, they will truly become the driving force and majority, and more profound social changes will naturally start to take place.
Still greatly under-owned and undervalued
As China has come to the forefront of investors' minds and become a larger portion of global indices over the past several years while dominating global headlines, investors have been slow to catch up to today's global balance. We believe this slow reaction to the rise of China as a global economic power creates an opportunity for investors who are willing to lead the pack.
China is under-owned by nearly any measure. Its weighting in the MSCI AC World index is 5%, less than one-tenth of the weighting to the US. We find these figures decidedly backward-looking. If we focus on the fundamental strength of China's much higher share in total global market capitalisation, number of listed companies, contribution to global growth and number of innovative future corporate leaders, we would not be surprised if its weighting grows to 20% or even more in the not-too-distant future.
China is under-owned by nearly any measure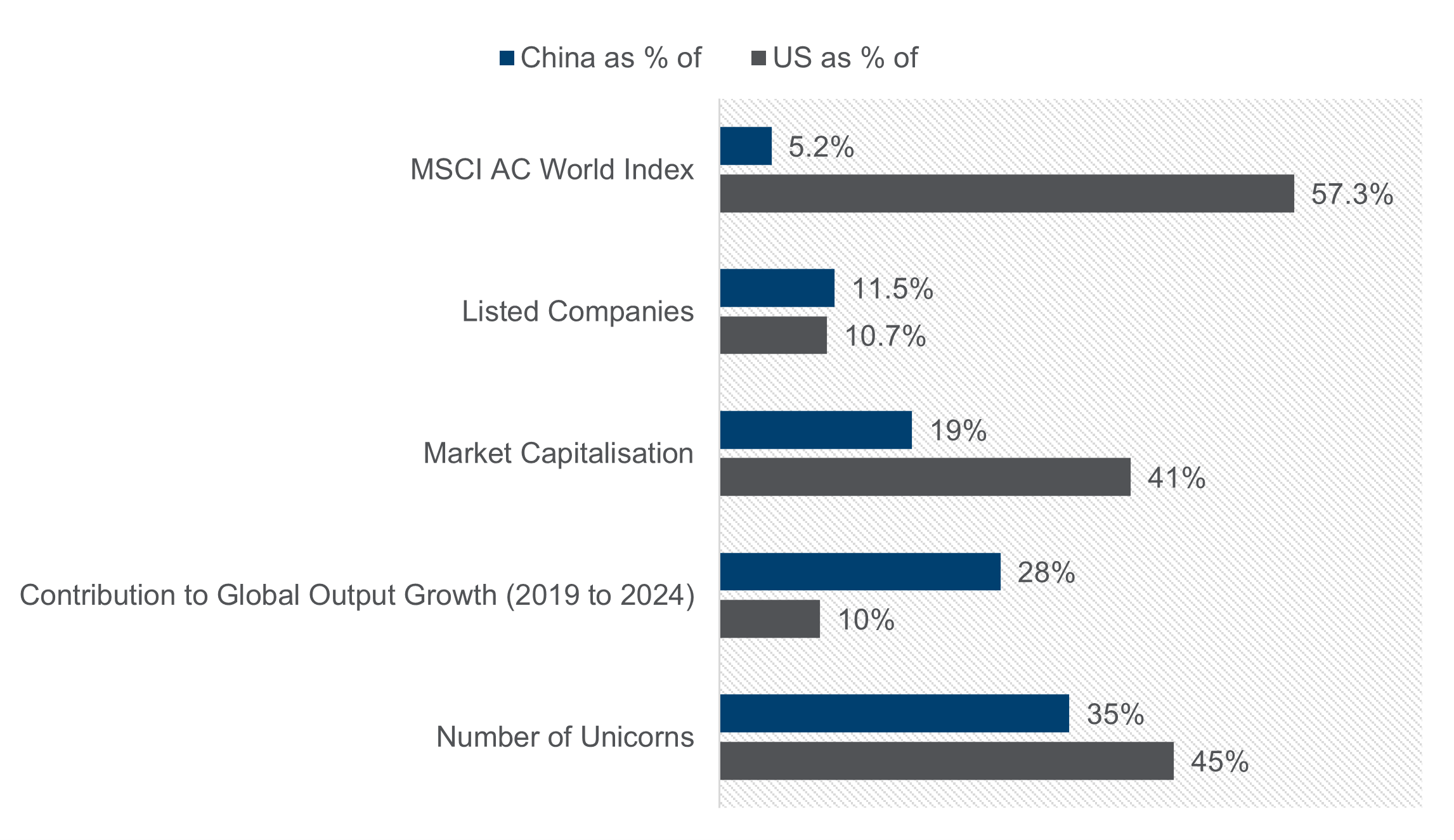 Source: IMF, Bloomberg, Statista, MSCI, Polar Capital.
Investors are also rewarded to think ahead of the curve. We believe Chinese equities are trading inexpensively compared to other regions, despite offering the unique set of exciting investment opportunities discussed earlier. 

Source: Bloomberg, Polar Capital, as of 19 January 2021.
Long journey to the Middle Kingdom
Our very positive long-term outlook on Chinese equities has little to do with all those debates and discussions on its industrial policies, the strength and weaknesses of state capitalism or the prowess of the government's ability to manage the economic cycle. Our deep-rooted conviction comes from the ingenuity of its remarkable entrepreneurs, who keep on learning and innovating; our firm confidence come from the courage and optimism of its more enlightened and individualistic middle-class consumers. It is the compounding of the human capital that is so powerful and unstoppable.
It is not going to be one smooth upward ride. There will be hiccups and turbulence along the way. That is where the Polar Capital China team can add value, by picking and partnering with the shrewdest management teams with the highest levels of integrity, by focusing on long-term value creation and solving big social and environmental challenges instead of making a quick buck, by partnering with patient capital that shares that vision, and by informing and educating investors on the most important and interesting issues.
The pace of economic and social change in China is so rapid that even the supposed China experts like us learn so many new things each year. That is why we plan to send you more regular China updates throughout the year of the Ox, to dive deeper into many fascinating topics including ESG in China, Generation Z consumers, its nascent #MeToo movement, the success of its female entrepreneurs, the rise of Chinese brands and so much more. Welcome aboard the Polar Capital China express for an exciting and rewarding journey to the Middle Kingdom.
Wishing you a happy and prosperous year of the ox. Kung Hei Fat Choy. Gong Xi Fa Cai.
1Hendrik Bessembinder, "Do Stocks Outperform Treasury Bills?", Journal of Financial Economics, September 2018.