Global Financials
|
16 Feb 2021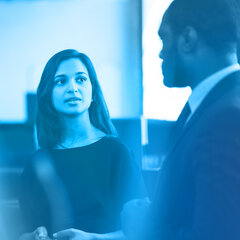 John Yakas
Fund Manager, Global Financials Team

Nick Brind
Fund Manager, Global Financials Team

George Barrow
Fund Manager, Global Financials Team
There can be no doubting the growing influence of ESG risk factors on finance and investment decisions. According to Morningstar Data, ESG-oriented open-ended mutual funds and ETFs gathered $151bn of inflows globally in 9M20, at an organic growth rate of 11.5% (left-hand chart below), while Bloomberg estimates that ESG assets are on track to exceed $53trn by 2025 (right-hand chart below), representing more than a third of projected total assets under management. As a result, we believe the incorporation of ESG factors into the investment process is critical to optimising risk-adjusted returns.

There are a variety of approaches available for incorporating ESG factors, including exclusionary screening, integration, best-in-class selection, thematic investing and impacting investing. While each have their own merits, our approach to ESG is primarily integration; we systemically and explicitly include the impact of ESG factors in our investment analysis. This process has evolved over the past couple of years and we use third-party specialists, such as MSCI, for underlying data to support our analysis.
We recognise that third-party specialists and their ratings can have limitations. Unlike credit rating agencies, for example, they are unregulated and at times have no engagement with the companies they are rating. It is, for example, not unusual for an issuer to only learn of an ESG concern after publication. Furthermore, they have an inherent bias towards large companies with the internal resources to tick more disclosure boxes, while their focus is typically backward looking; ratings tend to be updated with a lag, offering only a point in time reflection of a company's ESG credentials, and often overweight issues that are unlikely to be repeated.
We, however, mitigate these limitations by blending third-party ratings with our own internal risk assessments. In addition to incorporating regular management engagement and more forward-looking analysis, these assessments include a deep dive into any weakness identified by the third-party. This creates an overall ESG score for each company, which is subsequently integrated into our quantitative scoring system (summarised below).
Bank Scoring Methodology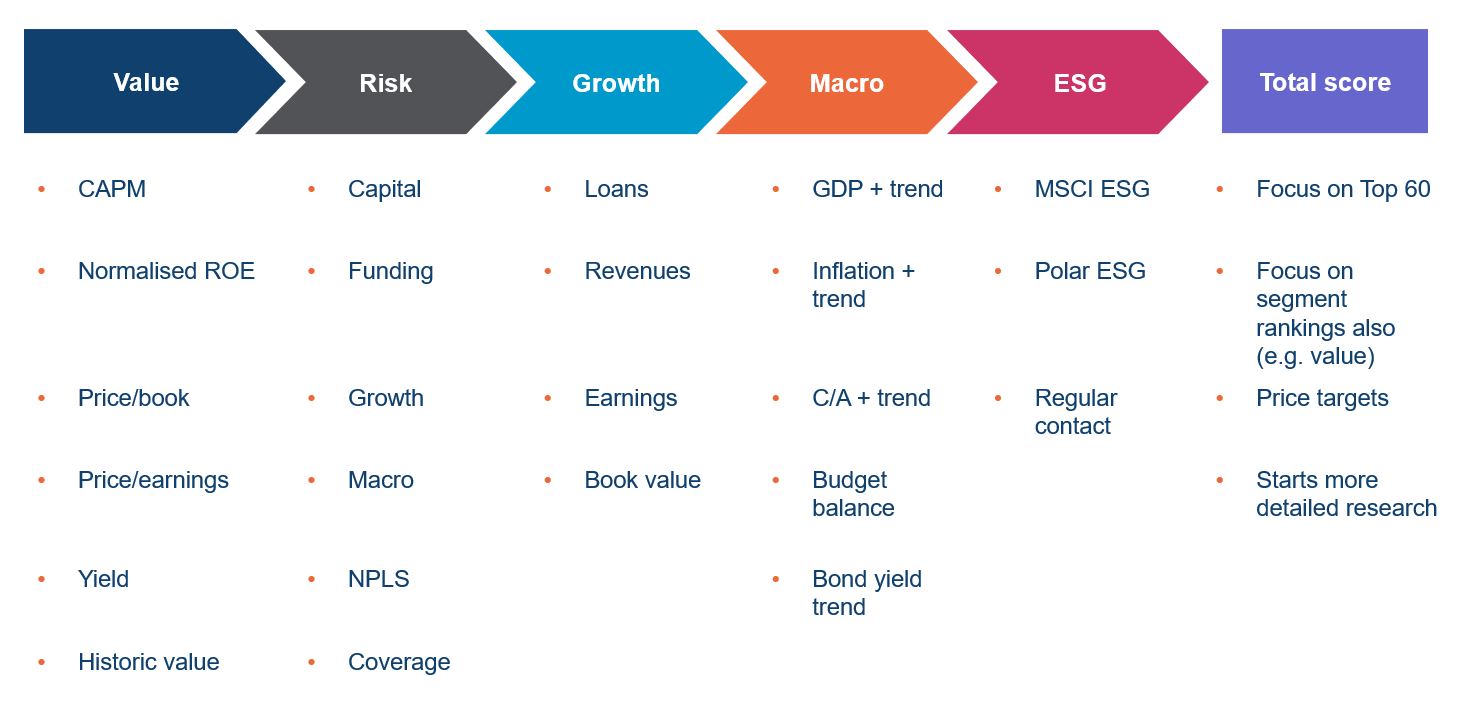 Source: Polar Capital.
As outlined above, the ESG score forms part of a total score for each company, which creates a model portfolio (top 60), highlights potential issues with existing holdings, enables cross-comparisons and is the starting point for more detailed fundamental analysis. Companies with poor ESG scores are therefore automatically penalised and ranked lower on our scoring system.
The benefit of our internal risk assessment and blending approach has been highlighted with Wells Fargo. For the past few years, its ESG rating was CCC, the lowest rating of its global banking peer group. In recent months, however, we believed this failed to acknowledge the progress the bank had made in addressing its historic issues, including making significant changes to its Board and management team, with the external appointment of a new CEO along with material investments in systems. Our assessment was subsequently validated in December 2020, when MSCI upgraded the bank's ESG rating by two notches, to BB, a similar level to its peers. We expect further improvements over the next couple of years as other changes begin to yield positive results.
To better understand some of the specific issues we are faced with when analysing ESG factors, we must break the acronym into its constituent parts:
Environmental
Environmental risks have become an increasingly prominent issue for financial institutions, especially after their embrace by regulators following the adoption of the Paris Agreement on climate change in 2015. In recent years, we have, for example, seen the EU Commission declare the promotion of sustainable finance as a cornerstone of its medium-term strategy, and central banks, such as the Bank of England and European Central Bank, indicate their intention to run climate-related stress tests for both banks and insurers. Furthermore, the European Banking Authority is currently consulting on the incorporation of climate-related risks into its prudential regulatory framework, while the Central Bank of Hungary has already launched a three-year preferential capital requirement programme based on the hypothesis that green housing loans carry lower credit risks.
So what does this mean for the analysis of financial institutions, some of which have a long history of supporting clients across the energy sector?
Our analysis initially starts with an institution's energy exposure, given its inherent volatility and associated financial risks. With relatively detailed disclosure across the financial sector, we seek to avoid institutions with significant concentrations to energy, irrespective of their jurisdictions. Our investment in Prosperity Bank is an example of this. Despite operating in the oil-states of Texas and Oklahoma, it has relatively limited energy exposure, accounting for only 3% of outstanding loan balances.
Environmental risks have, however, extended beyond a static exposure amount to include the physical and transitional risks associated with climate change as well as risks related to environmental degradation and biodiversity. Here, physical risks refer to the financial impact of climate change, be it from more frequent extreme weather events (an acute risk) or the gradual increases in temperature and/or sea level (a chronic risk), while transitional risks refer to losses caused, either directly or indirectly, from the adjustment process towards a lower-carbon, more circular economy. This could be triggered, for example, by a relatively abrupt adoption of climate and environmental policies, or changes in market sentiment.
Encouragingly, disclosure is beginning to increasingly reflect the emergence of these related risks. ING, for example, publishes an annual sustainability report, the Terra progress report, detailing the gradual steps it is taking to reduce the climate-related risks within its loan book (see the charts below). This is echoed by Barclays' annual ESG report which outlines its commitment to steadily reducing thermal coal financing. By 2030, Barclays intends to only finance entities whose thermal coal activities represent less than 10% of revenue.
Our analysis also acknowledges the green financing commitments made by financial institutions. Wells Fargo, for example, has committed to providing $200bn to support environmental sustainability over the next decade, with 50% targeting low-carbon opportunities, while JP Morgan has an annual green financing commitment of $50bn.
A common misconception about environmental risks is that all oil and gas, as well as coal financing, must be completely halted. The World Energy Outlook's Sustainable Development Scenario (SDS), however, highlights that even with the achievement of the Paris Goals by 2040 (ie holding the increase in the global average temperature to well below 2°C above pre-industrial levels, while pursing efforts to limit the temperature increase to 1.5°C), oil and gas production will still be required by the middle of the century.
As a result, we note the comments included in ING's sustainability disclosure indicate it will continue to support energy companies within the fossil fuel sector if the product is produced "responsibly, to the highest environmental standards and with attention to reducing emissions". Barclays also notes it will continue to support customers within the thermal coal mining sector post-2030, subject to their commitment to the Paris Agreement goals and their own internal 10% revenue cap. 

Social
Social risk factors have the potential to affect a financial institution's customer and employee base, as well as its financial strength. They are, however, some of the hardest to quantify, due in part to their unpredictable timing and impact. A social risk could, for example, be idiosyncratic to one company (ie an employee dispute or allegations of mis-selling) or the result of external factors, such as social trends influencing customer behaviour.
For financials, there is a particular focus on inclusion, customer privacy, data security and systemic importance. Inclusion here refers not only to the maintenance of an inclusive and diverse workforce, but also to the provision of finance to underserved market segments or demographics. Analysis of this area has been made easier in recent years by the increased adoption of social policy frameworks by financial institutions such as JP Morgan, Bank of America and Mastercard. In addition to outlining an institution's social principles, these documents provide specific data regarding the gender, ethnicity and compensatory breakdown of their workforce. With regards financial inclusion, we look to assess the overall benefit to non-prime customers of the products they are offered, as opposed to focusing simply on an institution's profitability. This has, for example, ensured that we have avoided exposure to pay-day lenders.
Through our use of a third-party specialist, we have noted the negative scoring attributed to systemically important banks. We do not, however, believe this is justified following the regulatory reforms of the last decade, with banks now subject to higher capital and liquidity requirements. In fact, under the current regulatory regime, we consider that the largest banks often offer the greatest protection to creditors.
Governance
Governance has always been critical to the analysis of financial institutions. Weak corporate governance, along with inadequate business ethics, can have detrimental impacts on an institution, potentially leading to fines, weakened financial performance, cease-and-desist orders, or even the withdrawal of an operating licence. An institution's corporate governance framework includes its ownership structure, as well as clear statements about strategy and its implementation; details about the board and senior management's track record, composition and competence; the organisational structure, reporting lines and board committees; and relationships with regulators.
Corporate governance-related disclosure is typically comprehensive, with institutions often providing detailed data on board composition, ownership structure and strategy. We seek, however, to enhance this further through regular engagement with management teams, often over many years. We focus discussions on, and encourage actions that support, long-term value creation which increasingly include environmental as well as social and governance issues. Indeed, where relevant we provide feedback during and after meetings regarding corporate behaviour that might influence long-term sustainable value creation. We are also wary of investing in state-owned banks as, in some markets, their lending decisions can be influenced by political issues.
While there are a variety of financial subsectors, similar analytical principles apply when undertaking an ESG analysis. For example, we believe a strong corporate governance framework is essential for an asset manager, given their fiduciary responsibility to clients, while environmental risk management frameworks are crucial for insurance companies as their profitability is highly correlated to the physical risks of climate change.
Summary
ESG analysis is an increasingly important part of a robust investment process. Our approach is primarily one of integration, which means we incorporate ESG considerations alongside traditional financial analysis when making investment decisions. While we believe this is the best method for optimising risk-adjusted returns, we recognise that ESG is an evolving discipline with increasingly detailed and new disclosures. As a result, we are continually looking to improve and enhance our investment approach to ensure it embraces industry-wide developments.