European Income
|
01 Jun 2021

Nick Davis
Fund Manager, European Income Team
Executive summary
Our Polar Capital European ex-UK Income Fund yield is much higher than the index because it grew faster than the index before the pandemic and was much more resilient during it.
Our Fund dividend guidance is now for low to mid-single digit dividend growth for 2021 and mid-single digit growth from 2022.
The starting dividend yield and prospective real growth of the dividend is compelling in a world where inflation risk is in focus today.


Dividend outperformance will ultimately be rewarded when liquidity-driven mania fades
The strong growth of our Fund's dividend between 2016 until 2019 (7.8% CAGR) and the resilience of its dividend during 2020 (only down 14% versus the index1 down roughly a third) has left the Fund yield, net of withholding taxes, sitting at 3.8%2, well above the index (see the chart below). We are categorically not reaching for yield; it is a function of our growth and resilience. These yields are available because defensive sectors are deeply anti-consensus – bizarrely so in our view – and thus represent an excellent contrarian bet if markets become choppier from here. We made the case for the broader defensive dividend cohort of stocks in our recent commentary, so here we focus on the once-in-a-career opportunity we see in our Fund's yield.
Fund yield versus index yield (monthly)
The Fund dividend grew faster than the index before the pandemic and has held up much better during the pandemic.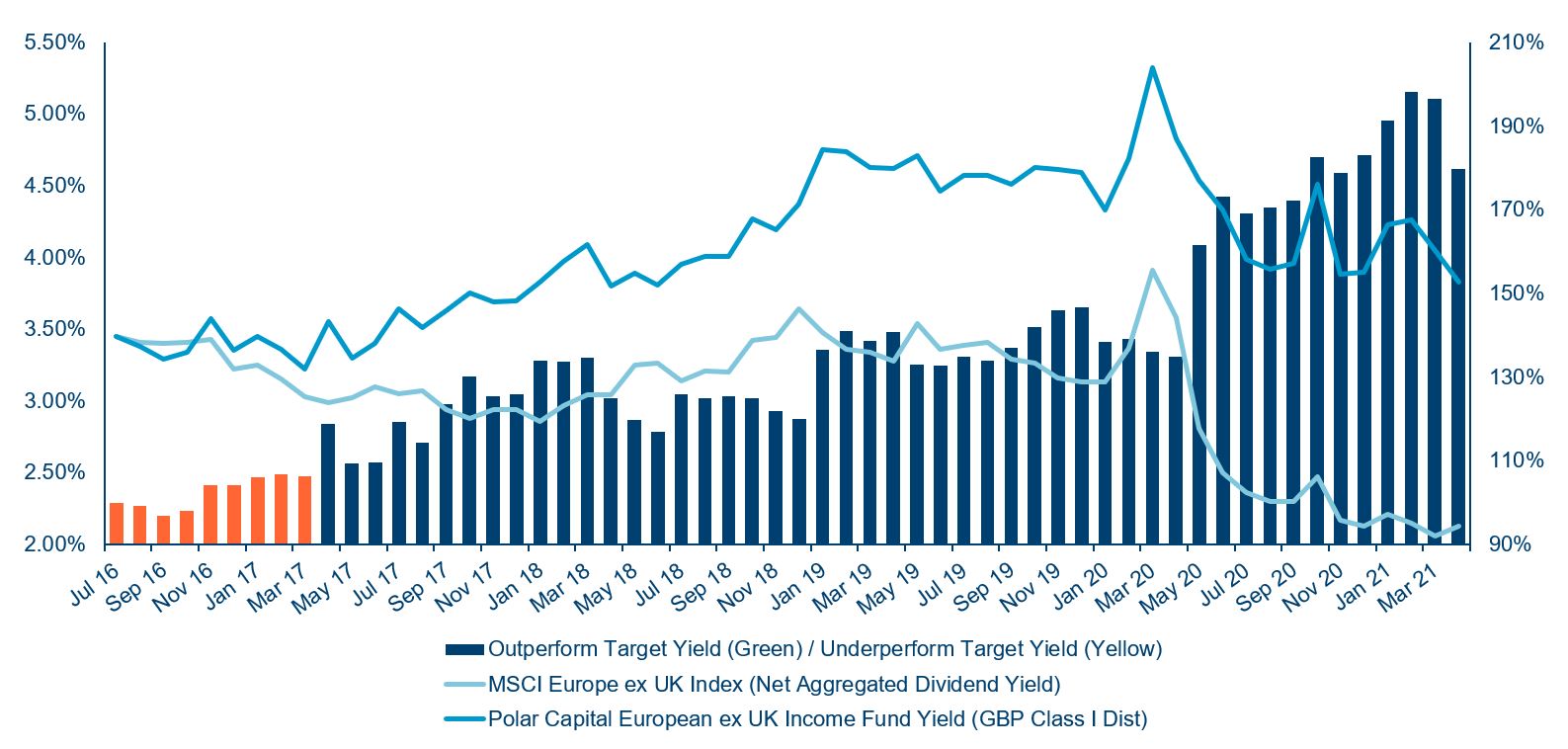 Source: Polar Capital; Bloomberg. May 2021.


Upgrade to 2021 Fund dividend guidance
We are upgrading our dividend guidance for 2021 to low to mid-single digit year-on-year growth. This reflects both a broader, improved backdrop for dividends and strong operating trends within the Fund's holdings.
New Fund dividend guidance
Source: Polar Capital; Bloomberg; company reports. May 2021.


Our previous approach amid the dividend uncertainty had been to provide a scenario-based Fund guidance for 2021. Having demonstrated dividend resilience in 2020 (the Fund yield ended down 14%, roughly half the index fall), our reasonable worst-case scenario was for a further 10% drop in 2021 in the scenario of further widespread lockdowns in Europe. As it turns out, this was far too pessimistic, given the current 2021 forecast is now for low to mid-single digit growth despite the second COVID-19 waves and all the actual lockdowns.
We continue to expect mid-single digit dividend growth from 2022.
Previous Fund dividend guidance (from August 2020)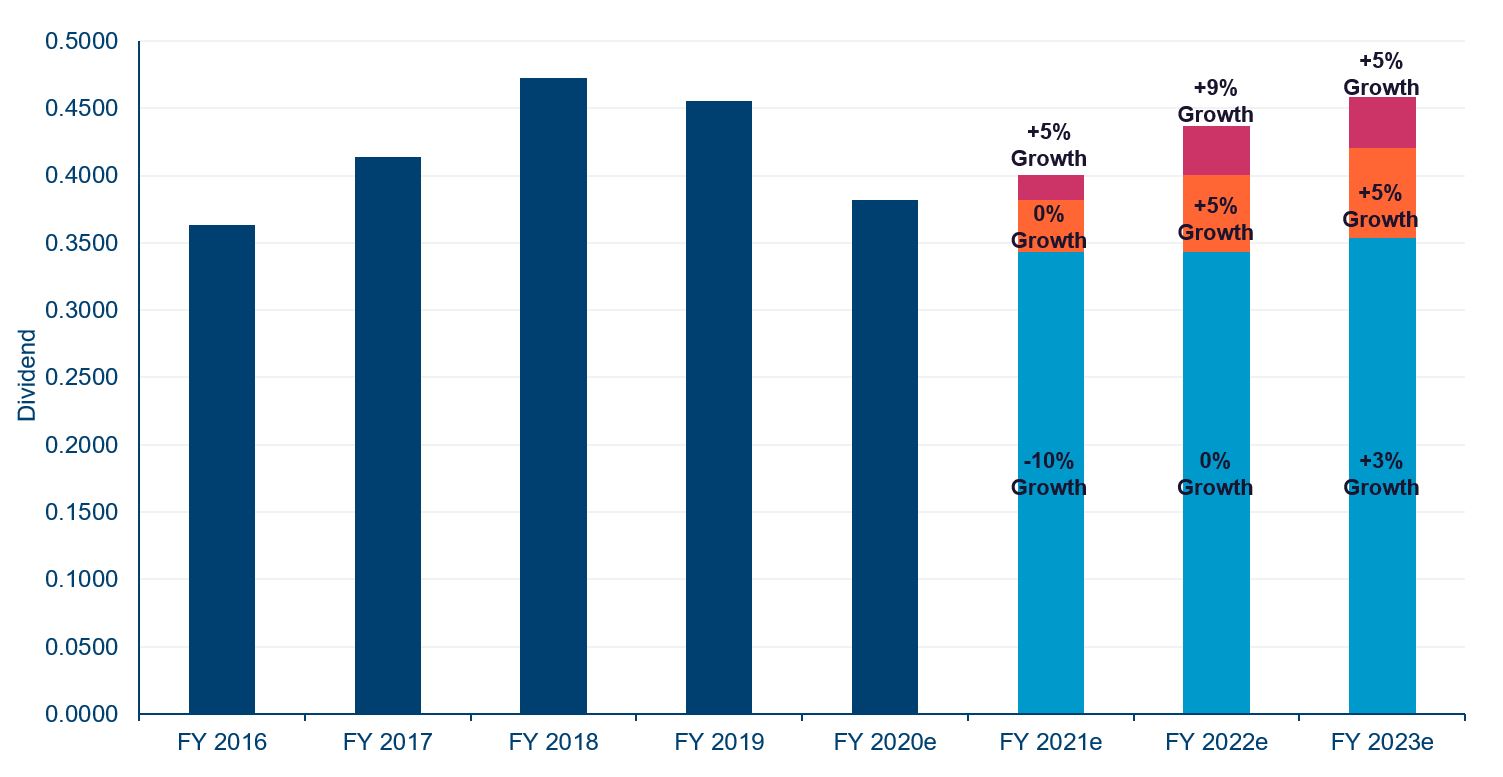 Source: Polar Capital; Bloomberg; company reports. August 2020.


The Fund's starting yield and real growth characteristics are highly compelling
If we are able to deliver the above guidance, the Fund's dividends will have grown 2.7% CAGR from 2016, the first full calendar year, to the end of 2022 despite the dividend carnage of the pandemic. This represents solid, real dividend growth in a world with almost no yield. While the defensive sectors we always like are currently out of favour, we see this as a truly exceptional entry point for our strategy as confidence in equity dividends returns. The decision to hold our dividend yield at a material premium to the index in 2020 is being vindicated by the ultimate 2020 resilience of the dividend and the prospective growth we are now guiding to.
Conclusion
Income strategies like ours had an exceptionally challenging time in 2020, with high dividend-yielding stocks materially underperforming low dividend sectors and many unpredictable dividend cuts. The resilience of the Fund's dividend was not rewarded in performance relative to the index, despite having also grown faster than the index in the years prior to the pandemic.
We continue to see our types of defensive income stock as materially mispriced relative to other asset classes, the companies' own bonds and government bond yields. Our blue-chip stocks have strong balance sheets (no stocks raised equity in 2020), generate strong cashflows and trade at a wide discount to the broader market.
We have extremely high conviction that the Fund remains materially mispriced by markets.
1 MSCI Daily Net Total Return Europe Ex UK Index
2 Running yield of 2021e income rate/current NAV